Apple debuts iPhone 14 Pro and iPhone 14 Pro Max
CUPERTINO, CALIFORNIA Apple today announced iPhone 14 Pro and iPhone 14 Pro Max, the most advanced Pro lineup ever, featuring the Dynamic Island — a new design that introduces an intuitive way to experience iPhone — and the Always-On display. Powered by A16 Bionic, the fastest chip ever in a smartphone, iPhone 14 Pro introduces a new class of pro camera system, with the first-ever 48MP Main camera on iPhone featuring a quad-pixel sensor, and Photonic Engine, an enhanced image pipeline that dramatically improves low-light photos. These groundbreaking advancements make iPhone even more indispensable for everyday tasks, creative projects, and now even emergency situations with features such as Emergency SOS via satellite and Crash Detection. iPhone 14 Pro and iPhone 14 Pro Max will be available in four gorgeous new finishes: deep purple, silver, gold, and space black. Pre-orders begin Friday, September 9, with availability beginning Friday, September 16.
"Our customers count on their iPhone every day, and with iPhone 14 Pro and iPhone 14 Pro Max, we're delivering more advancements than any other iPhone. iPhone 14 Pro introduces a camera system that empowers every user — from the casual user to the professional — to take their best photos and video, and innovative new technologies like the Always-On display and the Dynamic Island, which offers new interactions for notifications and activities," said Greg Joswiak, Apple's senior vice president of Worldwide Marketing. "Groundbreaking safety capabilities bring users even more security, offering help when they need it most. And with the incredibly powerful and efficient A16 Bionic chip and all-day battery life, this is the best iPhone yet."
Pause playback of video: iPhone 14 Pro and iPhone 14 Max
iPhone 14 Pro and iPhone 14 Pro Max introduce the Dynamic Island, a rich and delightful new way to interact with activities, alerts, and notifications.
A Stunning Design and the Most Advanced Display on a Smartphone
iPhone 14 Pro and iPhone 14 Pro Max feature a beautiful surgical-grade stainless steel and textured matte glass design in four stunning colors. Available in 6.1-inch and 6.7-inch sizes,1 both models include a new Super Retina XDR display with ProMotion that features the Always-On display for the first time ever on iPhone, enabled by a new 1Hz refresh rate and multiple power-efficient technologies. This makes the new Lock Screen even more useful, keeping the time, widgets, and Live Activities available at a glance. The advanced display also brings the same peak HDR brightness level as Pro Display XDR, and the highest outdoor peak brightness in a smartphone: up to 2000 nits, which is twice as bright as iPhone 13 Pro.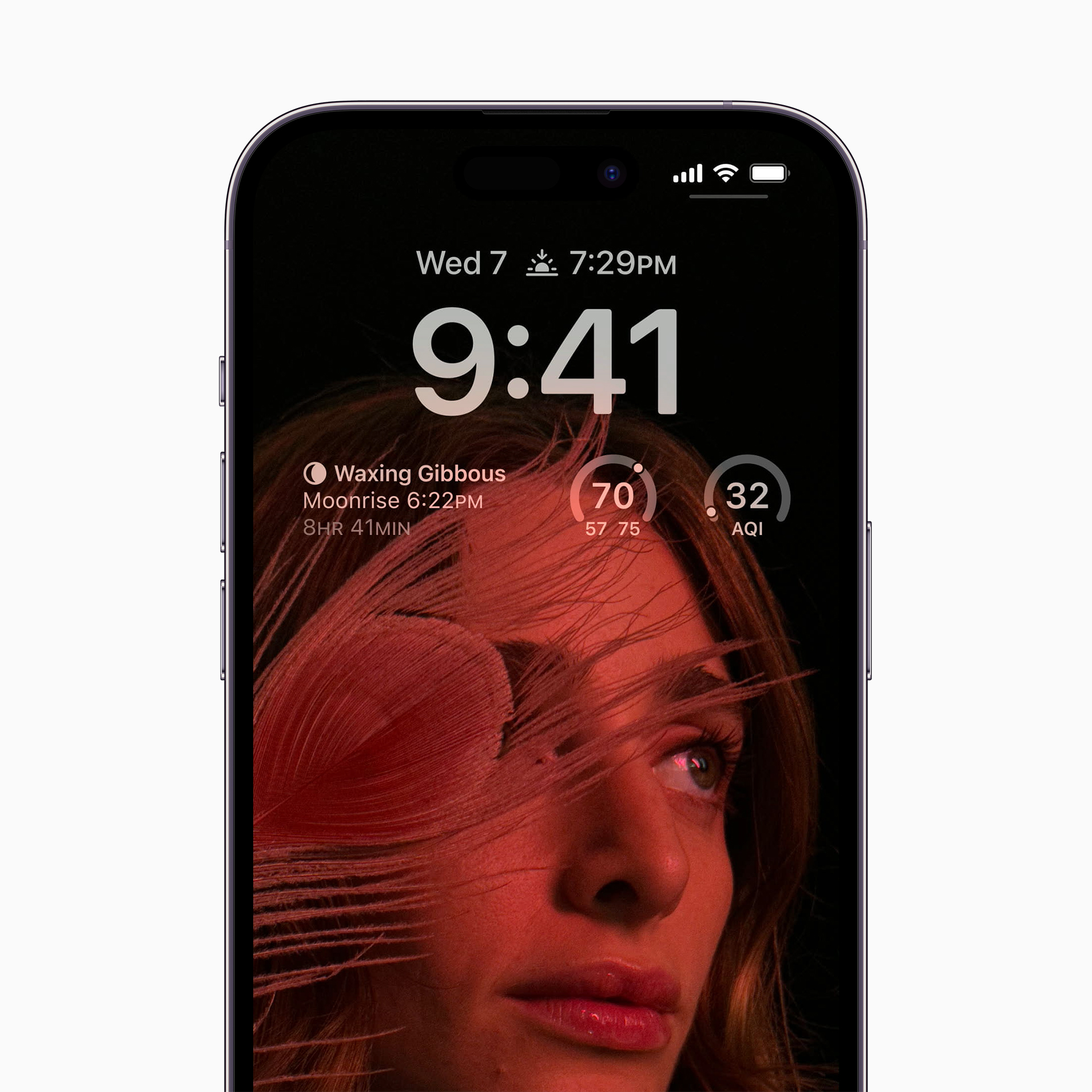 Pause playback of video: Always-On Display
Both models include a new Super Retina XDR display with ProMotion that features the Always-On display for the first time ever on iPhone, enabled by a new 1Hz refresh rate and multiple power-efficient technologies.
iPhone 14 Pro and iPhone 14 Pro Max also continue to offer industry-leading durability features with the Ceramic Shield front cover — tougher than any smartphone glass — and are protected from common spills and accidents with water and dust resistance.2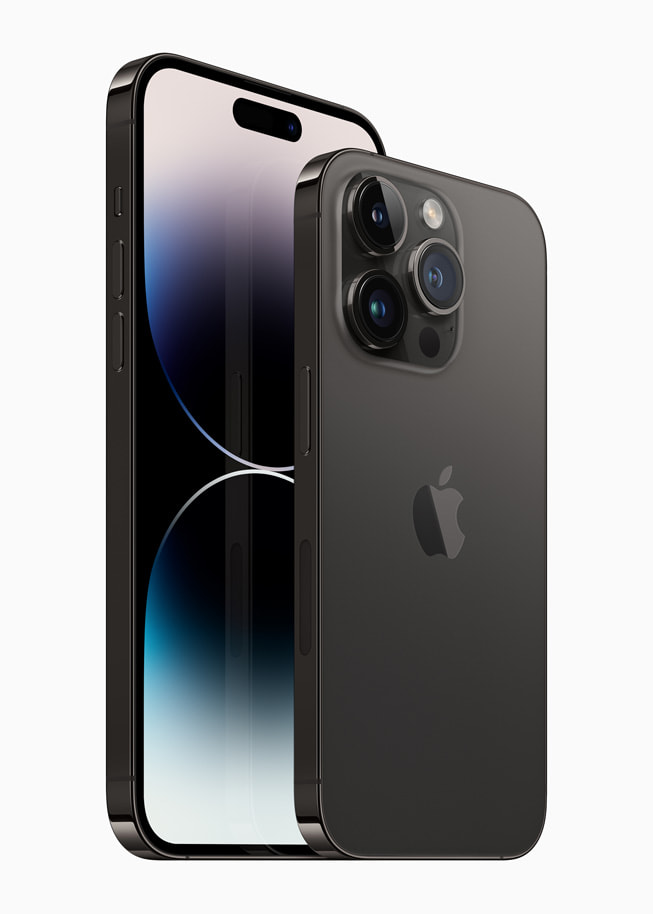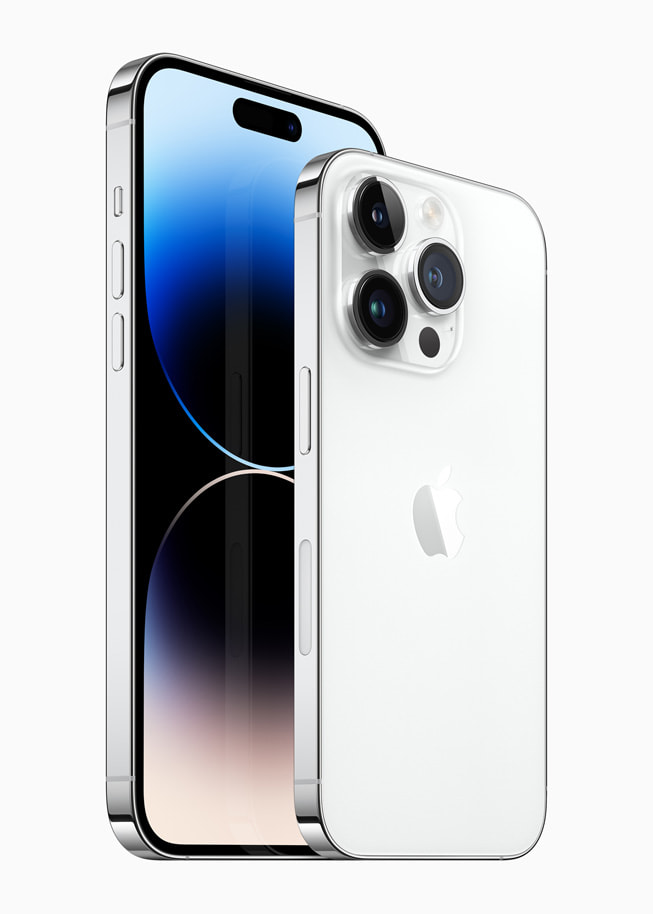 Dynamic Island: An Interactive User Experience
The Dynamic Island enables new ways to interact with iPhone, featuring a design that blends the line between hardware and software, adapting in real time to show important alerts, notifications, and activities. With the introduction of the Dynamic Island, the TrueDepth camera has been redesigned to take up less of the display area. Without impeding content on the screen, the Dynamic Island maintains an active state to allow users easier access to controls with a simple tap-and-hold. Ongoing background activities like Maps, Music, or a timer remain visible and interactive, and third-party apps in iOS 16 that provide information like sports scores and ride-sharing with Live Activities can take advantage of the Dynamic Island.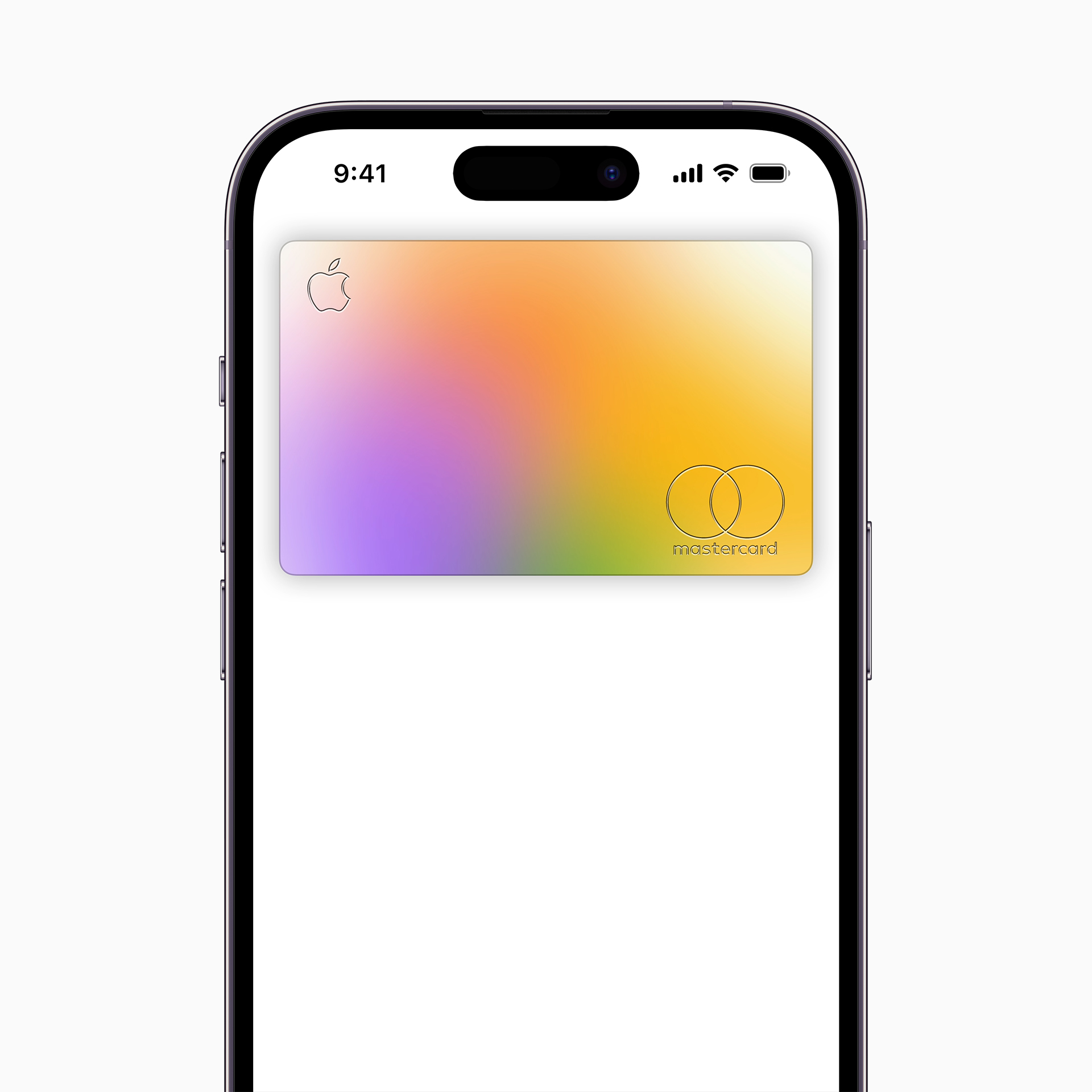 Pause playback of video: Dynamic Island
The Dynamic Island blurs the line between hardware and software, fluidly expanding into different shapes to clearly convey important activities like Face ID authentication.
A New Class of Pro Camera System
The pro camera system on iPhone 14 Pro and iPhone 14 Pro Max pushes the boundaries of what's possible in a smartphone, empowering every user — casual or professional — to capture the best photos and video.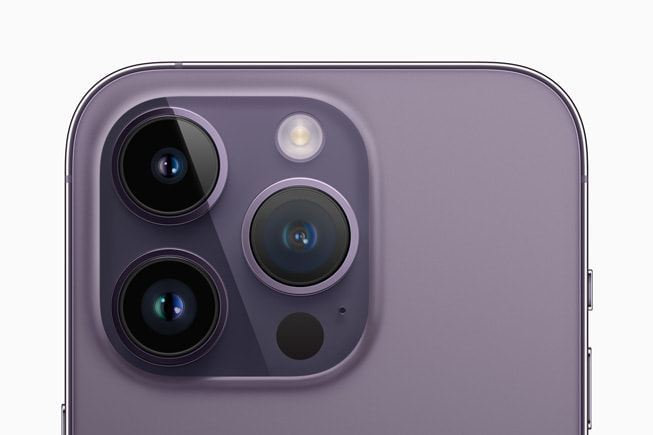 iPhone 14 Pro takes computational photography even further with Photonic Engine, offering a giant leap for mid- to low-light performance in photos across all cameras through a deep integration of hardware and software: up to 2x on the Main camera, up to 3x on the Ultra Wide camera, up to 2x on the Telephoto camera, and up to 2x on the TrueDepth camera. Photonic Engine enables this dramatic increase in quality by applying Deep Fusion earlier in the imaging process to deliver extraordinary detail, and preserve subtle textures, provide better color, and maintain more information in a photo.
or the first time ever, the Pro lineup features a new 48MP Main camera with a quad-pixel sensor that adapts to the photo being captured, and features second-generation sensor-shift optical image stabilization. For most photos, the quad-pixel sensor combines every four pixels into one large quad pixel equivalent to 2.44 µm, resulting in amazing low-light capture and keeping photo size at a practical 12MP. The quad-pixel sensor also enables a 2x Telephoto option that uses the middle 12 megapixels of the sensor for full-resolution photos and 4K videos with no digital zoom. This delivers optical quality at a familiar focal length, which is great for features like Portrait mode. The quad-pixel sensor also brings benefits to pro workflows, optimizing for detail in ProRAW. And with a new machine learning model designed specifically for the quad-pixel sensor, iPhone now shoots ProRAW at 48MP with an unprecedented level of detail, enabling new creative workflows for pro users.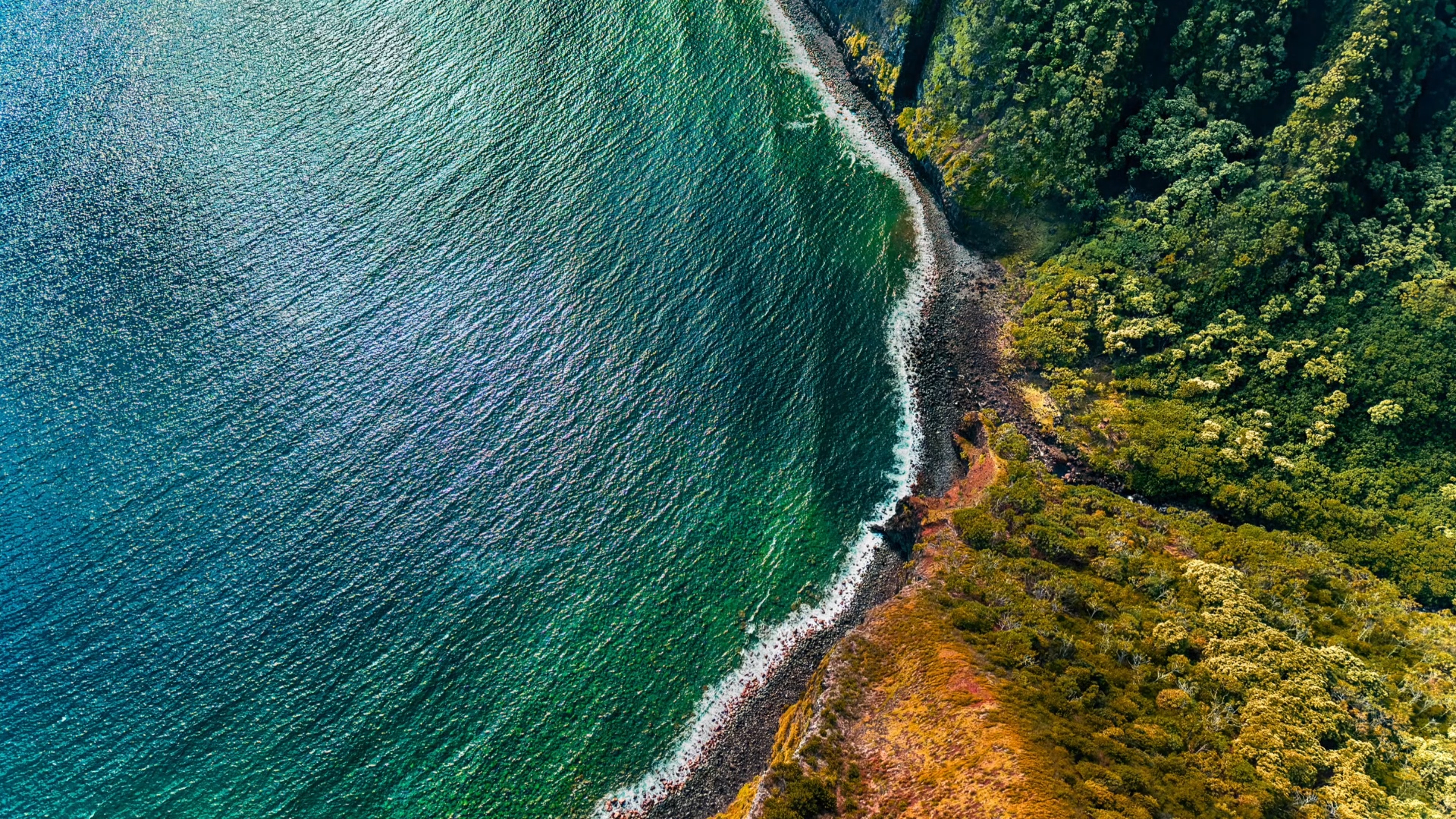 Pause playback of video: Focal Length
The quad-pixel sensor on the 48MP Main camera brings benefits to pro workflows, optimizing for detail in ProRAW and allowing for an unprecedented level of detail.
Additional pro camera system upgrades and features include:
A new 12MP Ultra Wide camera with 1.4 µm pixels, which delivers sharper images with more detail, improving already powerful macro photography capabilities.
An improved Telephoto camera that offers 3x optical zoom.
A new front TrueDepth camera with an ƒ/1.9 aperture that enables better low-light performance for photos and video. Using autofocus for the first time, it can focus even faster in low light and capture group shots from farther away.
A new Adaptive True Tone flash that has been completely redesigned with an array of nine LEDs that change pattern based on the chosen focal length.
Powerful computational photography benefits like Night mode, Smart HDR 4, Portrait mode with Portrait Lighting, Night mode Portrait photos, Photographic Styles to personalize the look of every photo, and Apple ProRAW.
A new Action mode for incredibly smooth-looking video that adjusts to significant shakes, motion, and vibrations, even when video is being captured in the middle of the action.
Cinematic mode, now available in 4K at 30 fps and 4K at 24 fps.
Pro-level workflows for video, including ProRes3 and end-to-end Dolby Vision HDR.
Pause playback of video: Action Mode
A new Action mode allows for incredibly smooth-looking video that adjusts to significant shakes, motion, and vibrations, even when video is being captured in the middle of the action.
Crash Detection and Emergency SOS via Satellite
The entire iPhone 14 lineup introduces groundbreaking safety capabilities that can provide emergency assistance when it matters most. With a new dual-core accelerometer capable of detecting G-force measurements of up to 256Gs and a new high dynamic range gyroscope, Crash Detection on iPhone can now detect a severe car crash and automatically dial emergency services when a user is unconscious or unable to reach their iPhone. These capabilities build on existing components, like the barometer, which can now detect cabin pressure changes, the GPS for additional input for speed changes, and the microphone,4 which can recognize loud noises typified by severe car crashes. Advanced Apple-designed motion algorithms trained with over a million hours of real-world driving and crash record data provide even better accuracy. When combined with Apple Watch, Crash Detection seamlessly leverages the unique strength of both devices to get users help efficiently. When a severe crash is detected, the emergency services call interface will appear on Apple Watch, as it is most likely to be in closer proximity to the user, while the call is placed through iPhone if it is in range for the best possible connection.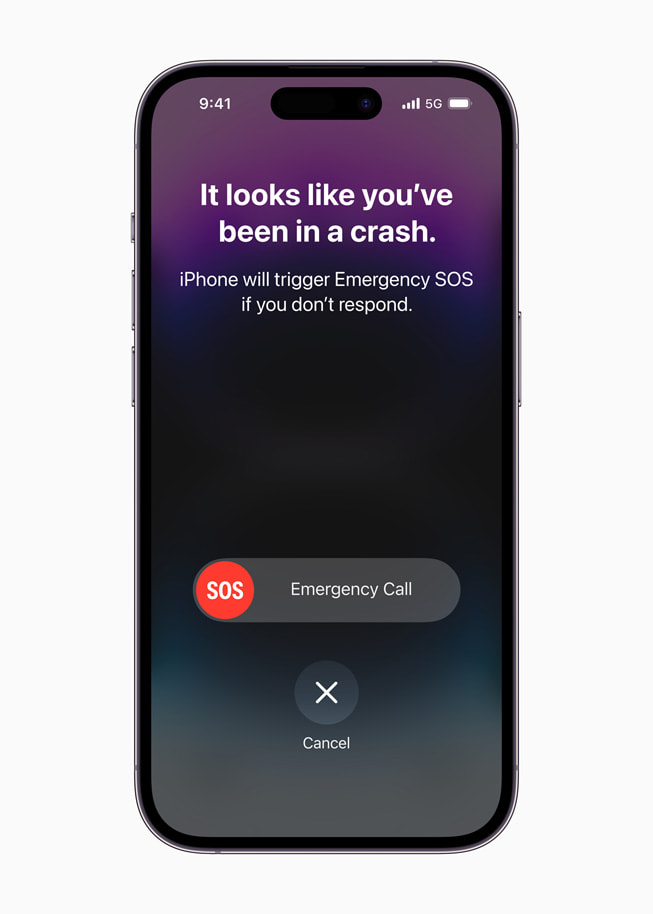 The iPhone 14 lineup also introduces Emergency SOS via satellite, which combines custom components deeply integrated with software to allow antennas to connect directly to a satellite, enabling messaging with emergency services when outside of cellular or Wi-Fi coverage. Satellites are moving targets with low bandwidth, and it can take minutes for messages to get through. Since every second counts, with Emergency SOS via satellite, iPhone front-loads a few vital questions to assess the user's situation and shows them where to point their phone to connect to a satellite. The initial questionnaire and follow-up messages are then relayed to centers staffed by Apple‑trained specialists who can call for help on the user's behalf. This breakthrough technology also allows users to manually share their location over satellite with Find My when there is no cellular or Wi-Fi connection, providing a sense of security when hiking or camping off the grid. Emergency SOS via satellite will be available to users in the US and Canada in November, and the service will be free for two years.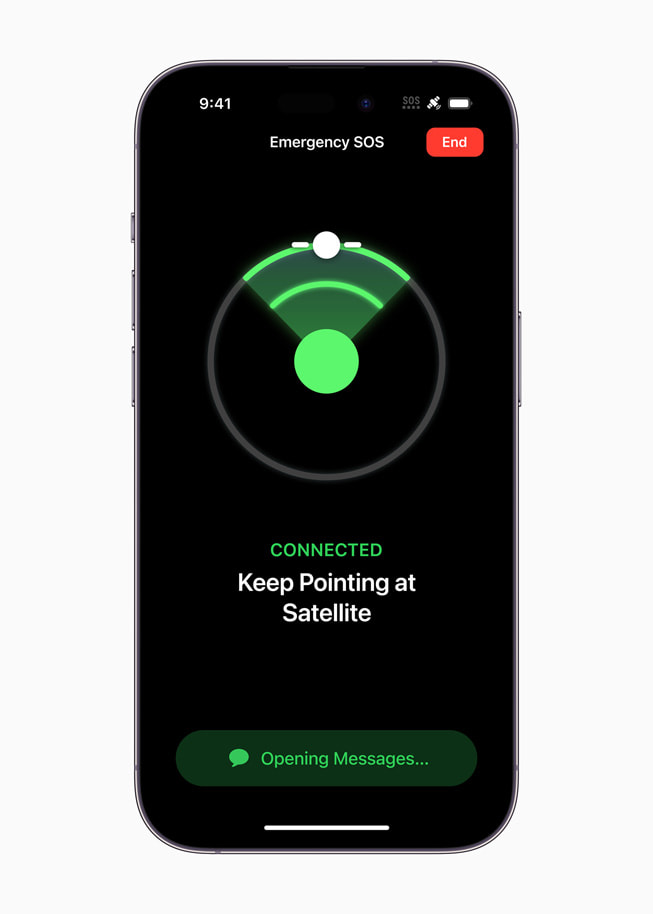 A16 Bionic: The Fastest Chip in a Smartphone
The A16 Bionic chip in iPhone 14 Pro and iPhone 14 Pro Max is generations ahead of the competition, and unlocks unparalleled experiences like the Dynamic Island, powers all-day battery life,7 and delivers impressive computational photography capabilities. With two high-performance cores and four high-efficiency cores, the new 6-core CPU is up to 40 percent faster than the competition and easily handles demanding workloads. A16 Bionic features an accelerated 5-core GPU with 50 percent more memory bandwidth — perfect for graphics-intensive games and apps — and a new 16-core Neural Engine capable of nearly 17 trillion operations per second. Using Apple's best-in-class fusion architecture to combine performance and energy savings, the chip delivers more performance with a fraction of the power compared to the competition.
Fundamental to the pro camera system, A16 Bionic powers incredible computational photography features. The CPU, GPU, Neural Engine, and image signal processor seamlessly work together to support the new camera hardware and perform up to 4 trillion operations per photo.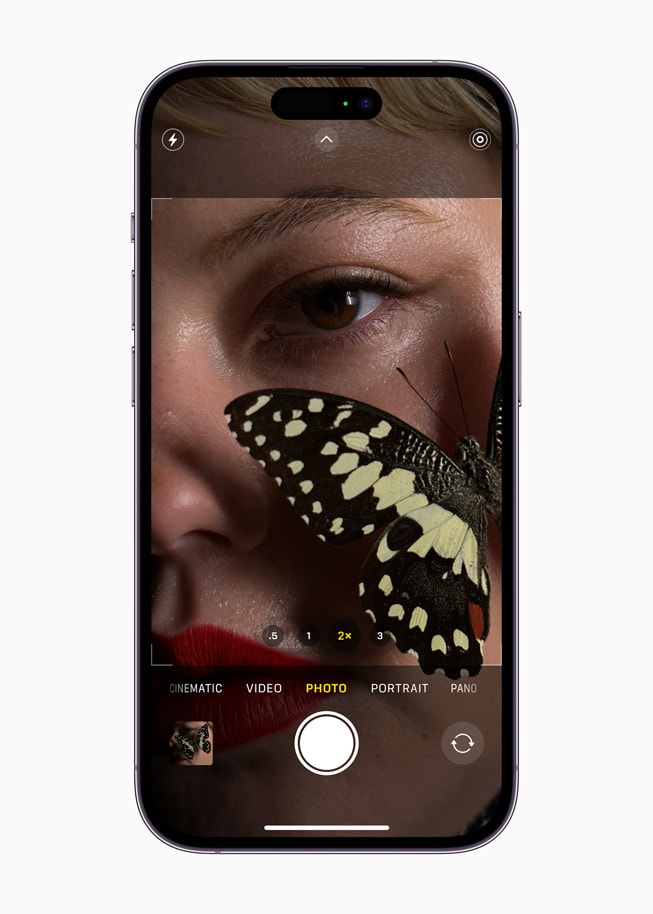 Powerful Cellular Capabilities and 5G
iPhone offers users super-fast downloads and uploads, better streaming, and real-time connectivity with 5G to help them stay in touch, share, and enjoy content.8 Support for 5G on iPhone now extends to over 250 carrier partners in over 70 markets around the world, with expanded support for standalone networks. eSIM allows users to easily connect or quickly transfer their existing plans digitally, is a more secure alternative to a physical SIM card, and allows for multiple cellular plans on a single device. iPhone 14 Pro and iPhone 14 Pro Max remove the SIM tray for US models, enabling users to more quickly and easily set up their device.
Apple Fitness+ for All iPhone Users
Later this fall, for the first time ever, Apple Fitness+ will be available for all iPhone users to subscribe to and enjoy in the 21 countries it is offered in, even if they don't have an Apple Watch. iPhone users will have access to the entire service featuring over 3,000 studio-style workouts and meditations, all led by a diverse and inclusive team of trainers. Fitness+ users will see onscreen trainer guidance and interval timing, and estimated calories burned will be used to make progress on their Move ring. Fitness+ will be fully integrated with the Fitness app coming with iOS 16 and located in the middle tab, where users can stay motivated to close their Move ring through awards, activity sharing, and more. Users only need an iPhone to sign up, and can then experience Fitness+ on iPhone, iPad, and Apple TV.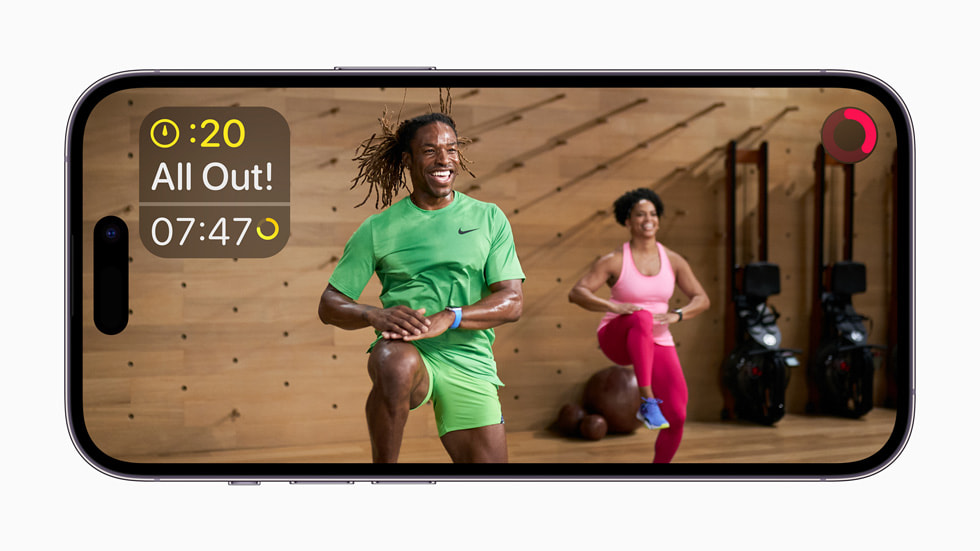 Featuring iOS 16
Designed to take advantage of the new capabilities of iPhone 14 Pro, iOS 16 features a reimagined Lock Screen along with new communication, sharing, and intelligence features that together change the way users experience iPhone. The Lock Screen is more personal, beautiful, and helpful than ever with a multilayered effect that artfully sets subjects of photos in front of the time, and newly designed widgets that offer information at a glance. For Lock Screen inspiration, the wallpaper gallery offers a range of options, including Apple collections, a Weather wallpaper to see live weather conditions as they change throughout the day, an Astronomy wallpaper for views of the Earth, moon, and solar system, and many more. With Messages, users can now edit or recall recently sent messages, and mark conversations as unread to revisit them later.9 iCloud Shared Photo Library makes it even easier to share a collection of photos with family.10 Live Text gets more powerful with the ability to recognize text in video and quickly convert currency, translate text, and more, and Visual Look Up adds a new feature that allows users to tap and hold on the subject of an image to lift it from the background and place it in apps like Messages.11
The reimagined Lock Screen in iOS 16 is shown.
Live Text is shown in iOS 16.
Visual Look Up is shown in iOS 16.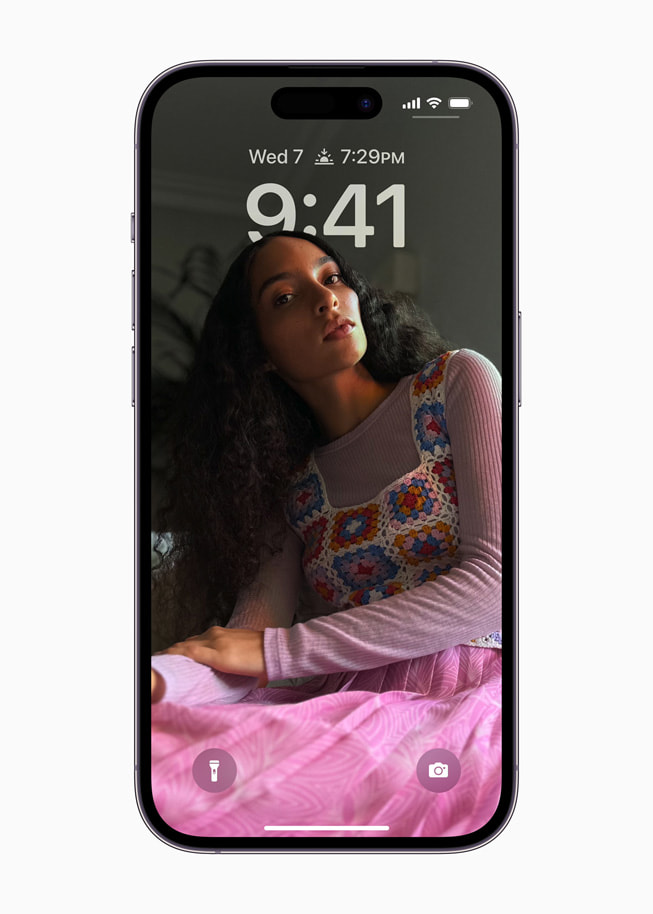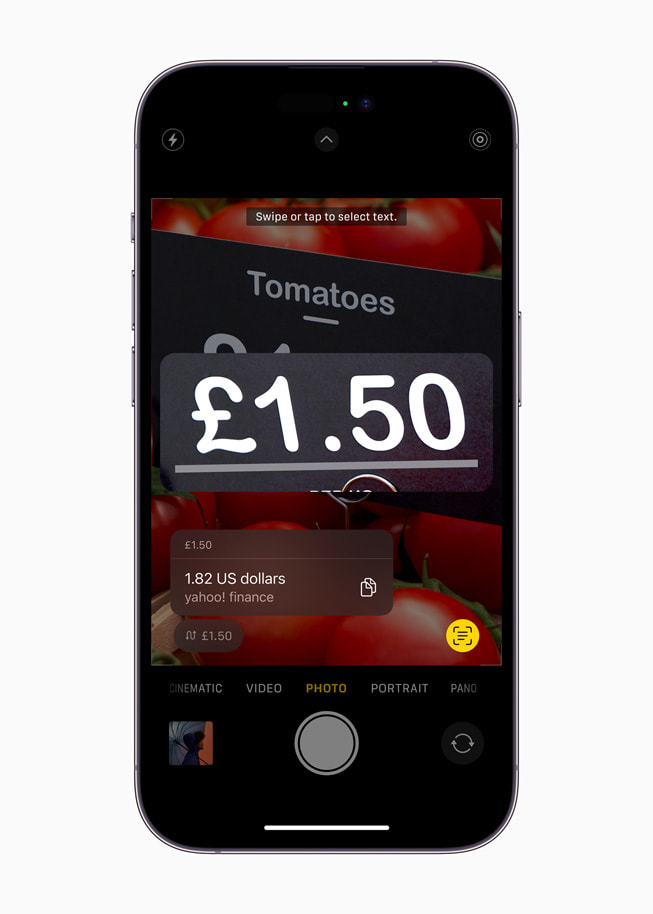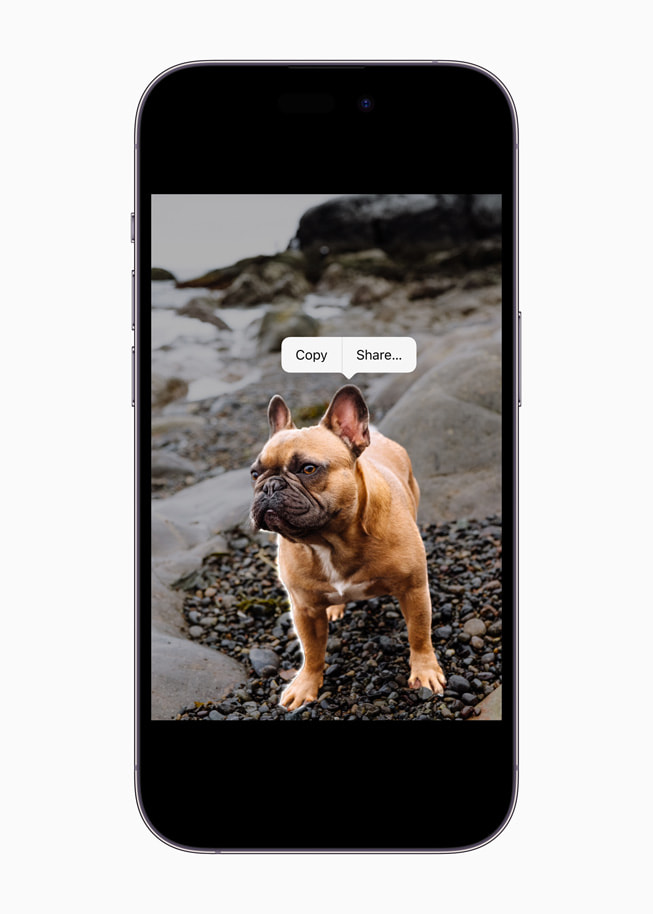 iPhone and the Environment
iPhone 14 Pro and iPhone 14 Pro Max are designed to minimize their impact on the environment, with 100 percent recycled rare earth elements used in all magnets, including those used in MagSafe, and 100 percent recycled tungsten in the Taptic Engine. Both models also include 100 percent recycled tin in the solder of multiple printed circuit boards, and 100 percent recycled gold in the plating of multiple printed circuit boards and in the wire of all cameras. Fiber-based packaging does not use outer plastic wrap, bringing Apple closer to its goal of completely removing plastic from all packaging by 2025.
Today, Apple is carbon neutral for global corporate operations, and by 2030, plans to be 100 percent carbon neutral across its entire manufacturing supply chain and all product life cycles. This means that every Apple device sold, from component manufacturing, assembly, transport, customer use, charging, all the way through recycling and material recovery, will have net-zero climate impact.
Pricing and Availability
iPhone 14 Pro and iPhone 14 Pro Max will be available in deep purple, silver, gold, and space black in 128GB, 256GB, 512GB, and 1TB storage capacities.
Customers in Australia, Canada, China, France, Germany, India, Italy, Japan, Saudi Arabia, Singapore, Spain, Thailand, the UAE, the UK, the US, and 30 other countries and regions will be able to pre-order iPhone 14 Pro and iPhone 14 Pro Max beginning at 5 a.m. PDT on Friday, September 9, with availability beginning Friday, September 16.
iPhone 14 Pro and iPhone 14 Pro Max will be available in Malaysia, Turkey, and 20 other countries and regions beginning Friday, September 23.
Emergency SOS via satellite will be available starting in the US and Canada in November, and the service will be included for free for two years with the activation of iPhone 14 Pro and iPhone 14 Pro Max.
Customers can get iPhone 14 Pro for $41.62 (US) a month for 24 months or $999 (US) before trade-in, and iPhone 14 Pro Max for $45.79 (US) a month for 24 months or $1,099 (US) before trade-in from apple.com/store, in the Apple Store app, and at Apple Store locations. iPhone 14 Pro and iPhone 14 Pro Max are also available through Apple Authorized Resellers and select carriers.12
Customers can save up to $1,000 (US) on iPhone 14 Pro and iPhone 14 Pro Max with trade-in directly from apple.com/store or at an Apple Store when they activate it with select US carriers. Terms apply. For eligibility requirements and more details, see apple.com/shop/buy-iphone/carrier-offers.
Customers in the US can get ready for iPhone 14 Pro and iPhone 14 Pro Max pre-orders until 10 p.m. PDT on Thursday, September 8, by visiting apple.com/store or using the Apple Store app. They can choose to pay monthly or in full, add a trade-in credit toward their new product, or upgrade through the iPhone Upgrade Program.
iOS 16 will be available as a free software update on Monday, September 12.
Customers who purchase iPhone 14 Pro and iPhone 14 Pro Max will receive three months of Apple Arcade with a new subscription.
Leather Wallet with MagSafe and iPhone 14 Pro and iPhone 14 Pro Max Leather Cases will be available in five new colors: midnight, forest green, ink, umber, and orange. iPhone 14 Pro and iPhone 14 Pro Max Clear Case and Silicone Cases will be available in midnight, storm blue, red, chalk pink, lilac, elderberry, succulent, and sunglow.
Small Business Financial Accounting Software and its Benefits
Definition of a Small Business:
Small business is termed as a privately owned organization, partnership, or sole proprietorship with a lesser number of employees and lesser resources as well as lesser annual revenue than a regular-sized business.
What is a Small Business?
While small businesses generally can implement the same quality management systems that are used in larger corporations, still they may face different challenges. Small businesses tend to have fewer human resources and less up-front capital to be dedicated to quality initiatives. As compared to a large enterprise, upper management commitment can be stronger in a smaller business and the communications within the company are more direct and straightforward.
Every small business owner requires to manage their accounts perfectly. Owning and utilizing the right accounting software simplifies this purpose or task.
Top 20 Financial Accounting Software Benefits:
Many Small Business Financial Accounting Software features may prove beneficial to you:
Easy to customize invoices
Sending of payment reminders to clients through the software application
Enables the clients to pay through the credit cards
Regular and loyal clients are dealt with differently
Expense tracking with receipt attachments.
Ability to sort out your transactions concerning which tax is implied on them
Easily manage your expenses according to their tax deductions
Generate detailed reports about your business and its finances
Collaboration is super easy
Business compliance features
Cloud-based software
Global accessibility feature
Data encryption feature
The software can be accessed on multiple devices
Comprehensive billing and invoicing feature
Offers all the features that a small business needs for managing its accounts
Inventory tracking features
Allows you to access the professionally written documentation of the software
Client portal makes communication with clients easy
Generates bills and keeps track of what you owe
The Small Business Financial Accounting Software depends on the type of business you are starting up or managing.  The most important deciding factor is the available budget in the small business. Based on the availability of a reasonable budget you can purchase good software that reduces the cost of the human workforce. Dealing with a small business requires you to think more smartly and intelligently as the business decision making in such small-sized businesses is extremely critical and crucial.
If you are working on a very tight budget then you might be looking for free options to allow you to get equipped with the financial accounting software. Such software is desperately needed to manage your books correctly.
Cloud-based Financial Accounting Software:
The bookkeeping is all maintained and managed on the internet cloud along with the data encryption which determines the accurate protection and security of data. Now you can access your business information from any part of the world and control your small business efficiently. It also helps you in critical decision making which is extremely cautious for your business.
Moreover, the financial accounting software for small businesses is available in multiple languages so that more customers can come and avail the services of the software. It allows the diverse types of customers coming from different regional zones and areas.
Should you hire any Expert Accountant?
Managing your accounts makes clear sense when your business is small and easy to manage as compared to a large business. It helps you know the exact cash flow into your business which keeps you informed about your business fortunes. At any time and at any moment you can check your financial health situation and make decisions to improve the cash flow.
However, as your business grows it becomes inevitable that you may need an accountant as well. Legal and financial penalties can occur in case of poor bookkeeping.
Having the right accounting software will make a tremendous change and a huge difference to any small business. As your business grows your business needs require scalability and flexibility.
Does Accounting Software Handle Payroll?
Most of the accounting software options on the market today are allowed to integrate with the payroll systems. This feature ensures a high degree of compatibility between the two even if the developer companies are different. Both modules work together to allow maximum business efficiency and profitability.
What is the Conclusive Perspective?
In the market, there is much software available for your services and benefits for the small business but SMACC holds a significant place among all the software. You can not deny its savage importance and role while stepping ahead in your business performance with dignity and confidence. It is a cloud-based software that helps you improve your cash flow rate and directs your small business on the path of continuous growth and prosperity.
How Can Content Marketing Help Young Parents Get the Childcare They Need?
Childcare is a nightmare for young parents. Not only are they not surrounded by the type of community as a generation ago, but they're struggling to get by. In the absence of such a support system, young parents will need all the help they can get. There are services out there that can help them with childcare. Content marketing can help lead them to the best ones.
Blogging for Young Parents
Blogging for advertising childcare services is a very effective strategy. Young parents, or parents of this generation, have a habit of reaching for Google when they have a question. Hence, blogs and websites that hold the answers can be valuable to them.
The entire premise of content marketing for childcare stems from this. When parents find a blog or a website that they can trust, it automatically puts them into a position to subscribe to it. This is why childcare businesses need to employ content marketing. They can get to a lot more people this way.
Blogs can help young parents find the information they need, as well as peace of mind. Sharing stories of fellow parents that are struggling, and interviews with happy families can help them get through parenting. Content marketing through blogs and using tools like video, images, and personal stories can be very effective.
Creating Content Partnerships
Share
One great way to advertise childcare services is to create digital content partnerships with publications. You can publish on guest blogs or magazines to increase your credibility. This not only gets your attention but improves your authority on a certain subject. This can drive more sales towards you and even popularize you in the public eye as a trustworthy source.
Focus on Creating Valuable Content
Share
As mentioned above, young parents in today's world are bereft of the kind of support structure once present in societies. With more and more people moving away from home and living in apartments, families are becoming scarce. With people living in single apartments and drifting away from neighborhoods, it's easier to be alone than ever before. This support structure breakdown leaves young parents on their own most of the time. Unless their parents or their relatives can come over and help them, they're usually in a mess.
Think about it this way. This generation is so prevalent on their devices that they immediately Google something when they face a problem. It's a reflex now more than a response. It's something that we just deem automatic when we face a problem or have a question.
In this regard, valuable content can help young parents deal with their new responsibilities. For instance, blogs about how to feed children or how to help them sleep can help. Blogs about the most common illnesses or ailments that children have can also help them deal with tricky situations. Old remedies and tricks that still work that are passed down over generations can also help young parents raise children.
Valuable blogs can also offer young parents that are loyal readers some discounts for childcare services. They can be given special offers or invited to workshops where they can learn to be better parents.
Create Individual Landing Pages
Landing pages are great tools that can help get web traffic for businesses. However, they're also great tools for customers to find exactly what they're looking for. For instance, parents that live in Trenton would usually look for childcare centers in Trenton. Hence a landing page with keywords or key phrases like that or resembling that will track well for those searches. This can work for different countries, cities, regions, etc. Where ever young parents reside where they need childcare, landing pages can help them find what they need.
On the flip side, specific landing pages can also work for young parents that require specific types of childcare. Some childcare focuses more on sports and playing rather than education. Other childcare can focus more on the latter and less on the former. Hence, parents can choose which childcare to put their kids in depending on the information available. Specific landing pages that target parents that need these services will have a better chance of getting traffic.
Content marketing for childcare services can be a boon to young parents. It can be a window to many services they desperately need in the modern era. Well-written blogs with practical tips can help young parents in times of need by offering them several useful strategies on raising their children. Content marketing can also help parents gain from the wisdom of previous generations and current parents. By reading blogs written by middle-aged or senior parents, young parents may find some comfort and encouragement. All this makes content marketing a must-have strategy for childcare providers.
Real World Cases of Blockchain Entering Other Industries
Blockchain is a revolutionary technology that has begun to permeate into a range of other industries. From finance and medical healthcare to art and marketing, blockchain is disrupting and transforming whole fields as it continues to develop.
In this article, we'll be taking a look at real world cases of blockchain being used within marketing, PR, and advertising. We'll be discussing:
Spotify
MatchPool
De Beers
and the Blockchain PR and Marketing industry as a whole
Let's jump right into it!
Spotify
Back in 2017, Spotify announced that they were going to begin to incorporate blockchain into their daily system of operations. Their plan was to use the decentralized database that blockchain runs on to give a more transparent picture to artists about who owns and earns on certain tracks.
They were about to do this as one of the main benefits of blockchain is how accessible it makes data. Instead of hiding data, every single blockchain transaction is completely transparent. By incorporating blockchain in this way, they have made it so you can see who is involved with a song on the platform. This extends from the singers and the songwriters all the way to the label that released the song.
This transparent form of data sharing allowed for artists, songwriters, and producers to always be fairly attributed with their own work. This eradicated the industry problem of people not getting total credit for their work and resulted in a much fairer system.
MatchPool
Matchpool is an application that uses blockchain currency trading to incentivize their users to participate in certain communities. For example, by using the Matchpool dating app, you'll be able to receive Guppy Tokens. These can then be redeemed in the application, or purchased and traded or exchanged.
This payment for usage feature works as blockchain can more accurately record transactions. The unalterable style of blockchain ensures that everyone who spends X amount of time on the app is awarded the correlating amount of digital currency.
Alongside this, the incentivization this company uses makes sure that people flock to their products, loading up their networks and ensuring they run smoothly.
De Beers
Having absolutely nothing to do with beer, this application is the very first platform that uses blockchain to track the history of a diamond. Within this application (named Tracr), you'll be able to see an incredible wealth of data on a diamond – from where it was mined, to who cut and polished it, all the way to who currently owns it or at which jeweler it is located.
The transparency of blockchain ensures that this app gives accurate information on their diamonds. As records within blockchain systems are tamper-proof, each of the records is certified as authentic. This form of data sharing then allows people interested in buying diamonds the certainty that they are buying a real diamond and from a reputable source.
Once again, blockchain's transparency has led to strides in this app's development.
The Rise of the Blockchain Marketing and PR Industry
The rise of blockchain has led to a new form of PR and marketing to spring up – one that is wholly devoted to the social development of this particular industry.
Considering the history of blockchain scams, many social platforms did not allow blockchain to advertise on their platforms. Due to this, blockchain PR and blockchain marketing firms had to take to other social platforms.
This led to the redevelopment of the industry, these new platforms needing distinct techniques and PR strategies. One blockchain marketing and PR firm, GuerillaBuzz, composed the following graphic to show the top blockchain PR social sites:
As you can see, whereas normal PR would expect to see sites like Facebook and Twitter, they are nowhere to be found in this industry.
The development of blockchain has led to the upsurge of new industry developments.
Final Thoughts
Even though it is still only in its early days, blockchain is one of the most impactful changes that is beginning to permeate into a range of industries. No matter which industry you work in, its likely that blockchain will begin to take effect – if it hasn't already!