Apple to put USB-C connectors in iPhones to comply with EU rules
Apple will ditch the Lightning connector on its iPhones, the company has confirmed, after European regulators decided all smartphones should have USB charging as standard in two years' time.
New EU rules require all phones sold after autumn 2024 to use the USB-C connector for their charging ports. The oval-shaped plugs are already standard on other consumer electronics such as e-readers, games consoles, laptops and the vast majority of new Android phones.
Apple has already switched much of its product line over to the standard, which can send up to 240W of power and 40Gbps of data over the same cable. Its first laptop to use USB-C to charge was the 12in MacBook in 2015, while iPads began switching from the Lightning connector in 2018.
But the company had pushed back against requirements to switch its phones to the standard, saying that "strict regulation mandating just one type of connector stifles innovation rather than encouraging it, which in turn will harm consumers in Europe and around the world".
Defenders of the Lightning connector have cited its smaller size, and the vast array of Lightning-based adapters and accessories owned by users around the world. The need to replace those cables could lead to a spike in e-waste, despite the stated goal of the regulation being to reduce discarded electronics.
Now, Apple's head of marketing, Greg "Joz" Joswiak, says the company is conceding defeat. "Obviously we'll have to comply, we have no choice," he told a technology conference in California.
But, he argued, it "would have been better environmentally and better for our customers to not have a government be that prescriptive".
Joswiak refused to answer questions on timing, or on whether the company would attempt to make USB-C iPhones an EU exclusive. Given the company's annual release schedule for iPhones, however, it is likely that either the iPhone 15, expected in September 2023, or its follow-up, expected in September 2024, will be the first to have the connector. "The Europeans are the ones dictating timing for European customers," Joswiak added.
we have a small favour to ask. Millions are turning to the Guardian for open, independent, quality news every day, and readers in 180 countries around the world now support us financially.
We believe everyone deserves access to information that's grounded in science and truth, and analysis rooted in authority and integrity. That's why we made a different choice: to keep our reporting open for all readers, regardless of where they live or what they can afford to pay. This means more people can be better informed, united, and inspired to take meaningful action.
In these perilous times, a truth-seeking global news organisation like the Guardian is essential. We have no shareholders or billionaire owner, meaning our journalism is free from commercial and political influence – this makes us different. When it's never been more important, our independence allows us to fearlessly investigate, challenge and expose those in power.
How Apple's Mac Mini M1 Is Winning Over Livestreamers
TheMac Mini M1 is among the most affordable Mac computers with base models now retailing for $699, down from $799
The new Mac Mini M1 packs more power than the previous model and can now handle image editing and video rendering tasks
It supports Intel-based third party apps through an emulation layer provided by Rosetta 2
The Mac Mini M1 is one of the first Apple computers to run the in-house ARM-based M1 processor, alongside MacBook Pro and MacBook Air. Although often overlooked, the Mac Mini is one of the most affordable desktop computers for livestreamers and professionals who want a compact desktop that can handle moderately demanding tasks.
The latest Mini Mac M1 is an upgrade of the 2018 Intel-based Mac Mini, and has been described as a "powerhouse" due to its new M1 processor, improved performance, and power efficiency. But does it measure up? In this guide, we break down everything you need to know about Apple's Mac Mini M1.
Design
From the exterior, the Apple Mac Mini with the M1 chip could be confused with the 2018 Mini Mac. It has retained the iconic square shape and rounded corners. The Mac Mini M1 has inherited the silvery aluminum unibody exterior with the Mac logo etched on the top center.
The computer has a black round plastic disc on the bottom to elevate the desktop slightly for proper ventilation and provide internal access to its accessories. However, the Mac Mini M1 is not serviceable and you cannot upgrade it DIY-style like the older Intel models.
Size and Weight
The newly designed Mac Mini retains many of the design aspects of the older model. It's small and compact, measuring only 7.7 inches on each side and 1.4 inches thick. It easily fits in small workspace and can be placed it a desk. For live streamers who are always on the go, it can be stashed in a travel bag, as it weighs just 2.9 pounds and is compact enough for light travel.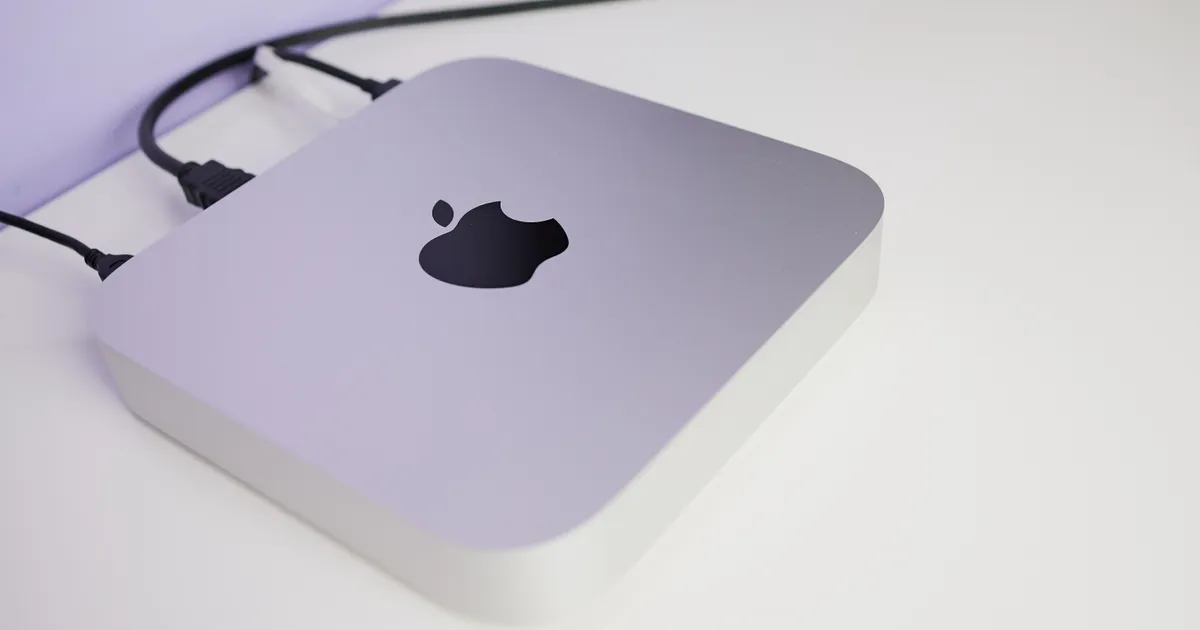 Shutterstock
Ports
One of the notable changes with the 2021 Mac Mini is the selection and number of ports. It comes standard with two Thunderbolt 3 ports, two USB-A Ports, an HDMI port, an Ethernet port, and a 3.5mm headphone jack. These ports are clustered on a black plastic strip at the back of the computer.
There are several differences when compared to the Intel Mac Mini. The M1 loses two Thunderbolts 3 ports from the late Intel model which featured four. Also, the Mini M1 can be connected to a maximum of two display screens, which is down from the three that you could connect to with the Intel Mac Mini. Only one screen can be connected over the Thunderbolt port; the other display must be connected over HDMI.
Additionally, the Mac Mini M1 is configured with a 1-gigabit connection unlike the Intel model that offered a 10-gigabit connection. Although 1-gigabit is sufficient for the average user, it could be a limiting factor for some media professionals.
RAM
The Mac Mini M1 base model comes with 8 GB of RAM, but can be upgraded to 16 GB at the time of purchase. This is a downgrade from the Intel Mini Mac, which could support up to 64 GB of RAM. However, Apple states that the Mini M1's RAM that is integrated on the M1 chip is different from standard RAM and has better performance and speed.
The M1 desktop uses a unified memory structure, which means that the RAM isn't sitting in a memory slot. Instead, it is built into the M1 chip structure, along with the graphics unit, main CPU, and auxiliary processors. Apple says that the unified memory structure allows the components to access the same data to boost performance and ensure power efficiency for longer battery life.
Storage
The Mac Mini M1 base model comes with 256 GB of SSD storage. However, at the time of purchase, it can also be configured to support 512 GB, 1 TB or 2 TB of SSD storage. Unfortunately, the storage is soldered in, which this means you cannot upgrade it or swap drives after the fact. If you need additional storage after purchase, you'll have to buy an external drive.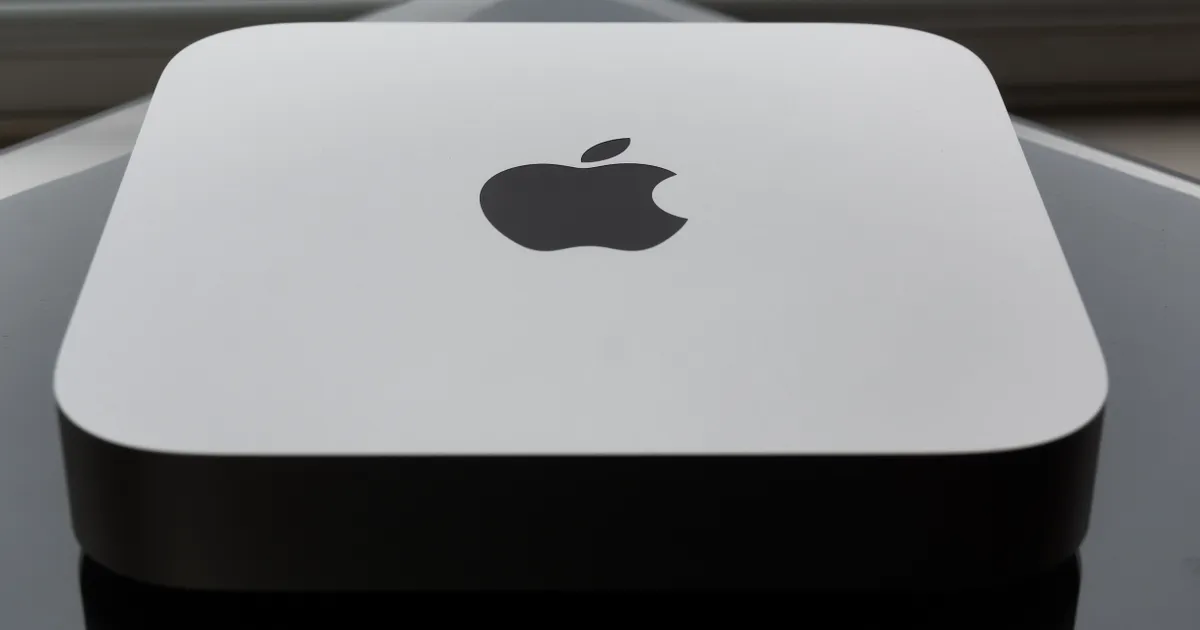 Shutterstock
Performance
After switching to a new processor, there were doubts whether the Mac Mini M1 would measure up. But the M1 takes a giant performance leap for its price point. It comes standard with 8 GB of RAM and 250 GB of SSD storage, and is among the cheapest Mac desktops you can buy.
The M1 processor is built using the ARM architecture, which is more power-efficient than Intel's x86 architecture. You can run multiple apps like podcasts, Microsoft Word, Login Pro, Chrome, and more at the same time without experiencing any lags or freezing. It can handle image editing, video rendering, and other tasks needed by livestreamers.
Big Sur and Rosetta 2
TheMac Mini M1 comes with macOS Big Sur, which supports both Mac and Intel processors, and is the first to be built for the Apple M1 processor. It also includes Rosetta 2, a translation process that allows apps designed for Intel x86 architecture to run on the M1 processor. Since most apps are written for Intel Hardware, Rosetta 2 provides an emulation layer to run non-Apple apps on the new processing hardware.
Mini Mac M1 CPU and GPU
Apple promises faster performance – up to 3x – for the Mini Mac M1 with an 8-core CPU. The CPU is comprised of four performance cores and four efficiency cores to handle demanding tasks with different levels of power draw. The efficient cores handle less demanding tasks like reading emails and browsing while the performance cores handle more demanding tasks like image and video editing.
The 8-core CPU is integrated with an 8-core GPU, which increases speeds for power-intensive tasks like video rendering and gaming. Apple claims GPU speeds are 6x faster than the Intel chip and it can execute 25,000 threats at the same time. It combines improved graphic performance and lower power consumption – ideal for livestreamers.
Neural Engine for Machine Learning
The Mini M1 is equipped with a 16-core Neural Engine to handle machine learning tasks. The neural engine can execute up to 11 trillion operations per second, making it 15x faster. Apps such as Pixelmator and Final Cut Pro that use machine learning in their function benefits from this with obvious increased speed and efficiency.
How Much Does Mac Mini M1 Cost?
Apple dropped the price for the Mac Mini M1 base model (8GB RAM and 256GB SS) from $799 to $699 USD, making it the cheapest Mac on the market.The next configuration up bumps the storage up to 512GB, which retails for $899. You can double the RAM to 16 GB for an additional $200, or increase the SSD storage to 1 TB or 2 TB for $400 and $800 respectively. If you want the top configuration, expect to pay about $1,599.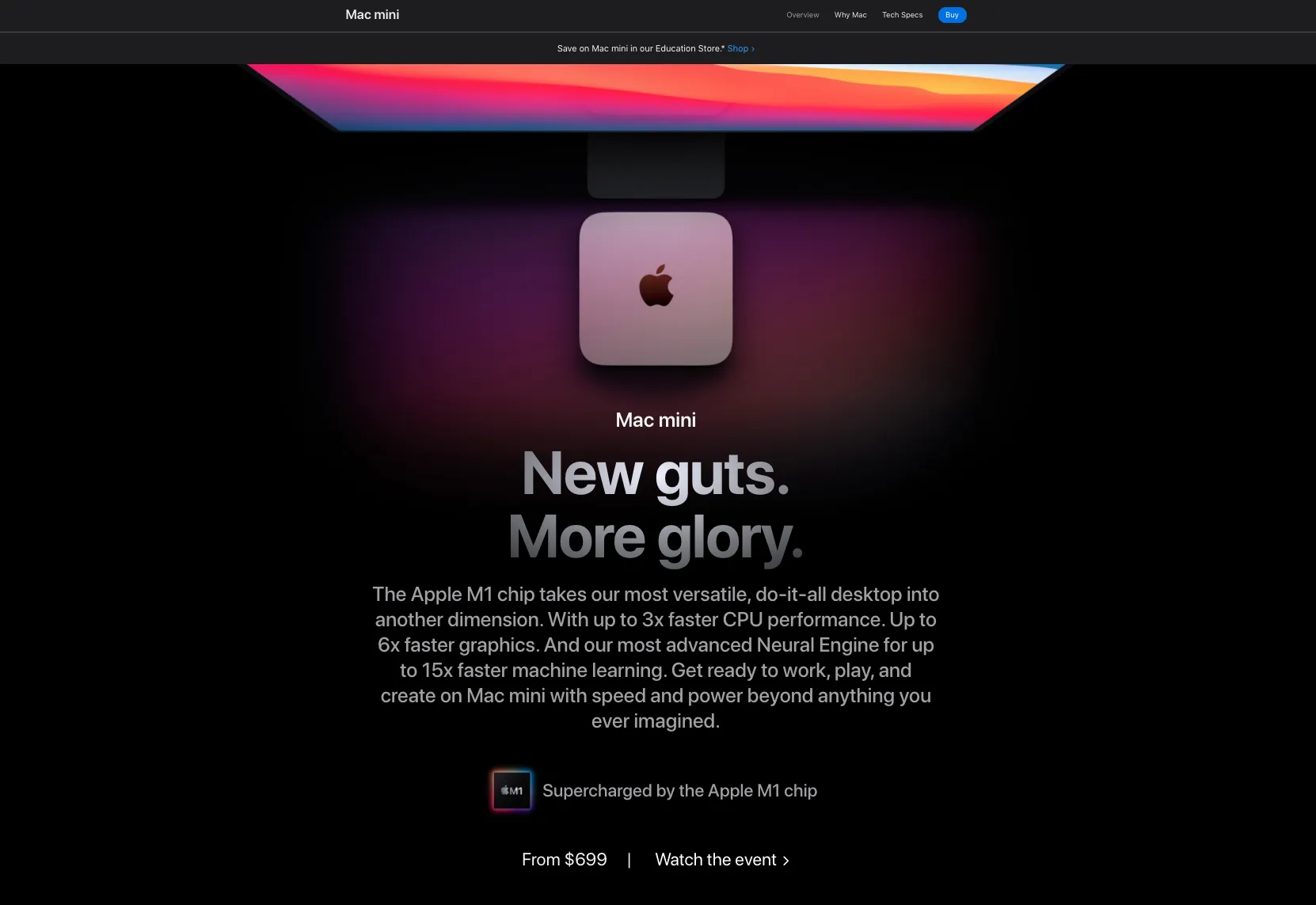 Screenshot: Apple.com
Cons of the Mini M1
The Mini M1 is among the first Apple products to use the M1 processor and was expected to have some drawbacks. First, there have been some hitches with Rosetta 2 compatibility with apps running on the Intel chip. Some third-party apps don't run on the M1 app and users are forced to try alternative compatible apps.
It would have also been ideal if the M1 version retained all the ports available on the Intel Mac Mini. If you need to use multiple accessories and external devices you may be forced to use a docking station.
Should You Buy Mac Mini M1?
If you are looking for a solid-performing desktop for live streaming, the Mini M1 is a good choice. As a first-generation product and among the first Macs to use Apple's own processor, the M1 has set a new bar for compact desktops. It offers superior features at a surprisingly affordable price.
Although it is not a perfect machine, Mac's Mini M1 has superior features than comparable desktops, which fetch a higher price, and is great pick for users looking for a computer to handle moderately demanding tasks like live streaming.
Apple reportedly considering touchscreen Mac laptop for 2025
Apple could release a MacBook Pro laptop with a touchscreen as soon as 2025, according to a report from Bloomberg.
Teams inside Apple are working on the project, and the first design would include a trackpad and keyboard as well as a touchscreen, according to the report.
The move, if it were to happen, would mark a significant reversal for Apple, which has said for years that touchscreen laptops are ergonomically inferior, even as competing Windows laptops now have touchscreens as a standard feature.
"We really feel that the ergonomics of using a Mac are that your hands are rested on a surface, and that lifting your arm up to poke a screen is a pretty fatiguing thing to do," Apple's head of software Craig Federighi said in 2018, adding that he's "not into touchscreens" on PCs.
More recently, he was asked at a conference whether Apple would release a touchscreen laptop, and he said, "who's to say?"
Apple's Mac business doesn't need a shot in the arm, though. Mac sales surged when Apple replaced Intel processors in most of its computers with its own silicon. The change improved battery life and reduced overheating. Apple's Mac business generated $40.1 billion in revenue during the company's fiscal 2022, up 14% from 2021.

A touchscreen Mac would require significant software changes to accept finger taps, which require larger buttons, instead of mouse clicks. Apple's iPhone and iPads use an operating system designed for touchscreens, while macOS can currently only be controlled with a mouse and keyboard.
Amazon's Twitch CEO steps down nearly 10 years after acquisition
Emmett Shear, the CEO of Amazon's livestreaming service Twitch, is stepping down from his role effective immediately, the company announced Thursday.
Amazon acquired Twitch for almost $1 billion in 2014. The site is most known as a popular livestreaming platform for video gamers. After buying Twitch, Amazon was largely hands off with the business, though it has offered Prime subscribers perks on the livestreaming platform, such as free games and in-game loot.
Shear will be replaced by Twitch President Dan Clancy, who has been a "close partner" to Shear, he wrote in a blog post. Shear said he's stepping away to spend more time with his newborn son. Shear will continue to work at Twitch in an advisory role.
"With the arrival of my son, the time has come for me to focus my energies on building that tiny little startup family, and I'm ready to dedicate my energies there," Shear wrote. "Twitch will always remain part of my extended family, a community where I grew in so many ways alongside Twitch itself."
Shear's resignation adds to a recent exodus of leadership under CEO Andy Jassy. Earlier this month, Ring CEO Jamie Siminoff announced he was stepping down from his role at the home security subsidiary. Last year, executives overseeing Amazon's Alexa and hardware research and development group, known as Lab126, exited the company. Last July, public policy chief Jay Carney announced he was leaving to join Airbnb, and 23-year Amazon veteran Dave Clark resigned as retail chief the same month.