Best Tech Websites List for Latest Technological News, Reviews & More!
Technology has invaded every aspect of our lives. From smartphones to smart cars- iPhones to Tesla, everything is now powered through technology.
Technology has completely revolutionized the way we interact, make friends, share our stories, and do our jobs.
Every day a number of new and awesome technological products are launched in the market. With tech evolving at a rapid pace, it's difficult to keep up with the changes.
To give you an idea, everyday apps like Instagram, Lyft, Slack, Ring, Alexa, Tinder, and Google Drive- all didn't exist 10 years ago! Yet, now they seem like such an integral part of our lives.
If you work in the technology field or are just tech geeks like us, keeping up with technology news becomes a top priority!
To help you stay ahead of the world, we have compiled a list of some of the best tech websites to follow in 2022. So without further ado, let's get started!
List of Best Tech Websites You Must Follow!
1. TechCrunch
What it's about: Kicking off our list is TechCrunch, one of our favorite tech websites on the web. If you are into the nitty-gritty of the startup world, TechCrunch is a must-follow resource.
Funding news, acquisitions, new feature launches, mergers, and breakthrough technology, TechCrunch keeps an eye out on everything happening in the tech world and delivers to you in an easy-to-read format.
They have a ton of podcasts on different topics too if you don't like reading news on your phone.
Read more: Top Technology Trends To Watch For In 2022
2. Gizmodo

What it's about: A great culmination of tech news and gadget reviews, Gizmodo is a well-reputed tech site in this space. The website takes a lighter tone and focuses on providing entertainment along with information.
Their review section is a great place to get product knowledge- be it smartphones, laptops, tablets, wearables, or simply tech toys! Gizmodo's science section is also a welcome addition to the site packed with knowledge up to the brim.
3. TheVerge

What it's about: Another one of our favorites, especially if you are more into gadgets and other 'cool stuff', TheVerge is a great resource for that. Their YouTube channel is probably the best one out there for Tech news and gadget reviews.
The videos are well-produced and aesthetically pleasing, and so is their gorgeous website. They also have a science section on their website that covers a lot of interesting scientific theories and happenings.
The topics are split into different categories so you'll have no problem finding exactly the type of content you are looking for.

What it's about: Focused on covering all the latest and greatest in tech, VentureBeat is purely a tech news website with no fluff whatsoever.
If you don't want to get sidelined with other content and strictly want tech news, VentureBeat is a good place to start.
No matter if you are a tech enthusiast or a startup founder in the tech world, VentureBeat keeps you up to date with all things relevant in tech.
5. Wired

What it's about: We are pretty sure you have heard about Wired. If you haven't, you need to check out this cool tech website right away.
From tech news to how tech impacts our day-to-day lives, Wired has got you covered with everything you need to know in the world of technology.
Apart from technology, Wired covers a variety of topics like business, science, gear, security, transportation, and more. Their website is well organized and easy to read too.

What it's about: Digital Trends is a website full of great information. From the latest new product and gadget coverage to detailed product analysis, Digital Trends is a great website to stay on top of well, digital trends!
A standout feature is their 'Original Series' tab which covers every topic in-depth in the form of a web series. The best ones are- The Food Fight, Woman with Byte, Digital Trends Live, and Tech for Change.
7. Mashable

What it's about: Apart from covering the latest tech happenings and product launches from around the globe, Mashable is a full-fledged infotainment website covering topics like entertainment, politics, culture, science, business, and more.
Mashable is always on the lookout for fresh tech news and events and is definitely a great website if you want to catch up on a variety of different topics.
Read more: Top 10 Tech Summits You Must Visit
8. The Information

What it's about: With the promise of "deeply reported articles about the technology industry that you won't find elsewhere", The Information is for those who want to learn more than the average tech-geek.
The Information features long-form content written by quality journalists to give you a 360-degree view of tech news and not just the fluff around it. It's a paid service, but it's worth every penny!
9. Term Sheet

What it's about: Fortune Magazine has a great website covering topics like finance, politics, and entertainment, on top of technology.
Their technological wing called Term Sheet is a great resource for all tech news. Funding announcements, IPOs, and new product launches- TermSheet has got you covered with all the latest and greatest in the tech world.
10. Engadget

What it's about: As the name suggests, Engadget is a gadget-focused website doing product reviews and impressions. However, it also covers a heck of a lot of tech news.
The 'Reviews' section provides detailed product reviews and can help you when looking to buy a tech gadget. The 'Buyer's Guide' section is categorically arranged into different types of purchases to further help you out with your tech buying decisions.
Read more: Top 10 Tech YouTubers in 2022
11. Ars Technica

What it's about: After being published for over 2 decades. Ars Technica is one of the oldest tech publications out there. It still continues to thrive and has gained a lot of loyal and frequent audiences since its inception.
Apart from tech news, it also covers business and IT news, gadgets and automobile, science and culture, and much more. There's a subscription plan present to get the most out of the site and get an ad-free experience.
12. The Next Web

What it's about: The Next Web is one of the top viewed tech websites in the world and for a good reason. Apart from tech news, they cover gadgets in detail and do insightful product reviews.
They also have a list of tech conferences and events you can attend and tech deals to get the most out of your purchase. Their market intelligence platform called 'Index.io' gives you a detailed analysis of startup funding and other announcements.
13. Gadget Review

What it's about: If you want a website specifically focused on the latest and greatest in tech, Gadget Review is a good place to start.
The website is neatly divided into different sections like appliances, games, gadgets, personal care, security, and much more and provides in-depth reviews on the same.
If you can't find the product you are looking for, you can also use the suggestion box to request a product review from their website experts.
14. TechRadar

What it's about: TechRadar calls itself the "source for tech-buying advice" and we couldn't agree more.
From smartphones and Bluetooth headsets to laptops and cameras, TechRadar has detailed reviews and comparisons on every gadget you can think of and equips you with everything you need to be an informed buyer.
To help you get more from your tech devices and gadgets, TechRadar's How-to section is an awesome resource.
15. Android Authority

What it's about: If you are a hard-core smartphone enthusiast, especially revolving around the Android ecosystem, Android Authority is the go-to source for all things Android.
Android Authority provides news, expert tips, smartphone reviews, app reviews, best-of apps, how-tos, and a bunch of other cool stuff related to smartphones and android.
They also have a YouTube channel with daily uploads regarding the latest smartphone launches and apps.
16. Ubergizmo
What it's about: Another website to help you out with your gadget buying decisions is Ubergizmo. Whether you are looking to buy the latest smartphone or a brand new laptop, Ubergizmo provides opinions and detailed reviews to help you out.
Apart from gadget reviews, Ubergizmo is also a great source of the latest tech news, covering everything from news to the latest events and conferences.
17. 9to5 Mac

What it's about: The last tech website on our list is for Apple fans. 9to5Mac is a dedicated blog for Apple enthusiasts who want to know everything that Apple does- from new iPhone launches, iWatch news, and smart cars, to iPad iTV, and Apple Music.
They are one of the few sources that constantly break down rumors and is a must-follow source for those fascinated with everything Apple.
Ps: If you are a Google fan, they have a sister website called 9to5Google.com!
Final Words
There you have it, folks- some of the best tech websites to follow in 2022. If you want to be informed about everything happening in the world of tech and gadgets, the above-mentioned sites are more than enough to put you on the right track. Happy Reading!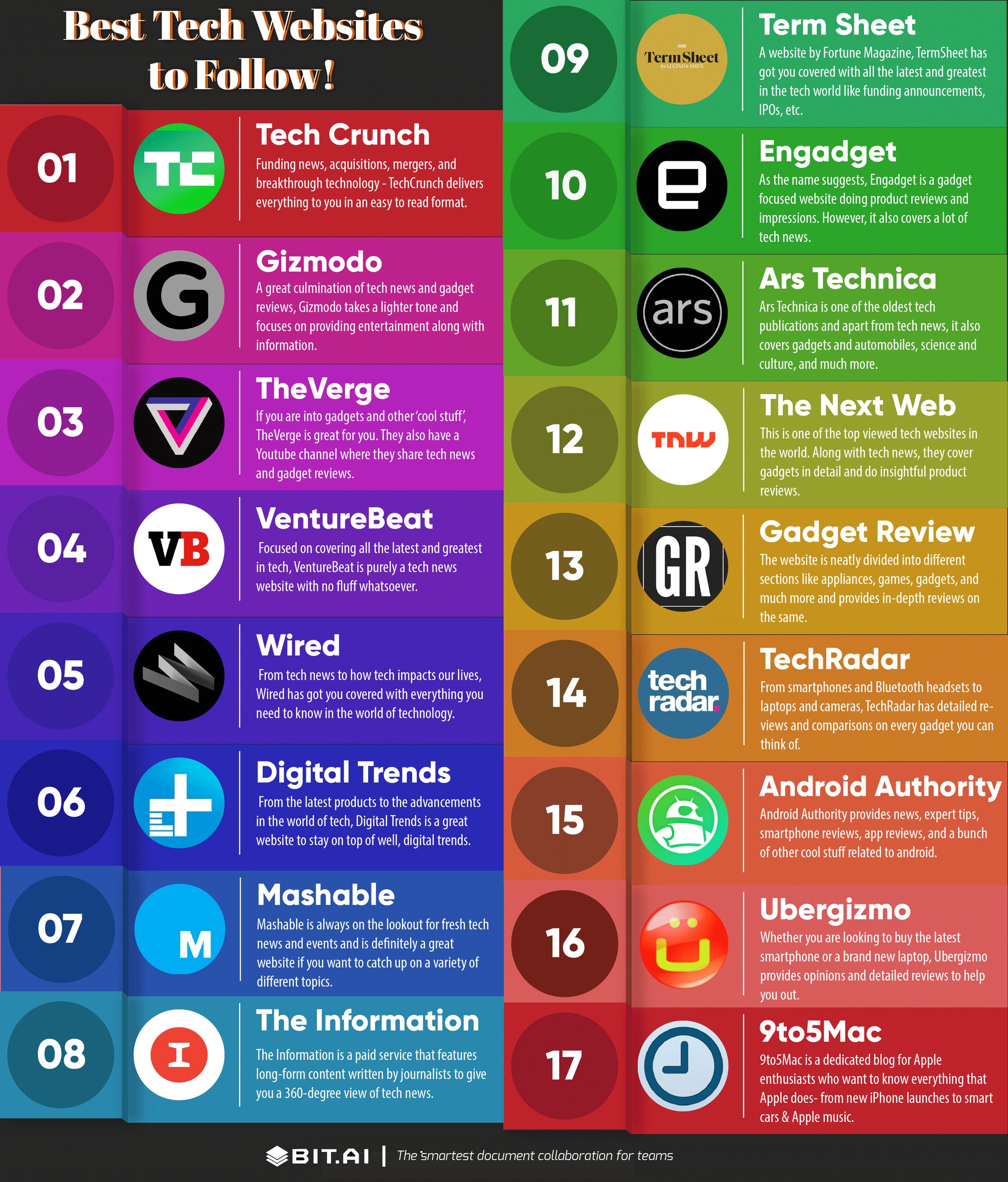 Do you have any favorite tech websites that we forgot to mention? Do let us know by tweeting us @bit_docs.
Further reads :
What Is Digital Transformation? The Buzzword For 2022
13 Programming Blogs and Websites to Improve Your Coding Skills
Why Companies Need to Invest in Work-From-Home Technology
Top SaaS Influencers You Must Follow

Small Business Financial Accounting Software and its Benefits
Definition of a Small Business:
Small business is termed as a privately owned organization, partnership, or sole proprietorship with a lesser number of employees and lesser resources as well as lesser annual revenue than a regular-sized business.
What is a Small Business?
While small businesses generally can implement the same quality management systems that are used in larger corporations, still they may face different challenges. Small businesses tend to have fewer human resources and less up-front capital to be dedicated to quality initiatives. As compared to a large enterprise, upper management commitment can be stronger in a smaller business and the communications within the company are more direct and straightforward.
Every small business owner requires to manage their accounts perfectly. Owning and utilizing the right accounting software simplifies this purpose or task.
Top 20 Financial Accounting Software Benefits:
Many Small Business Financial Accounting Software features may prove beneficial to you:
Easy to customize invoices
Sending of payment reminders to clients through the software application
Enables the clients to pay through the credit cards
Regular and loyal clients are dealt with differently
Expense tracking with receipt attachments.
Ability to sort out your transactions concerning which tax is implied on them
Easily manage your expenses according to their tax deductions
Generate detailed reports about your business and its finances
Collaboration is super easy
Business compliance features
Cloud-based software
Global accessibility feature
Data encryption feature
The software can be accessed on multiple devices
Comprehensive billing and invoicing feature
Offers all the features that a small business needs for managing its accounts
Inventory tracking features
Allows you to access the professionally written documentation of the software
Client portal makes communication with clients easy
Generates bills and keeps track of what you owe
The Small Business Financial Accounting Software depends on the type of business you are starting up or managing.  The most important deciding factor is the available budget in the small business. Based on the availability of a reasonable budget you can purchase good software that reduces the cost of the human workforce. Dealing with a small business requires you to think more smartly and intelligently as the business decision making in such small-sized businesses is extremely critical and crucial.
If you are working on a very tight budget then you might be looking for free options to allow you to get equipped with the financial accounting software. Such software is desperately needed to manage your books correctly.
Cloud-based Financial Accounting Software:
The bookkeeping is all maintained and managed on the internet cloud along with the data encryption which determines the accurate protection and security of data. Now you can access your business information from any part of the world and control your small business efficiently. It also helps you in critical decision making which is extremely cautious for your business.
Moreover, the financial accounting software for small businesses is available in multiple languages so that more customers can come and avail the services of the software. It allows the diverse types of customers coming from different regional zones and areas.
Should you hire any Expert Accountant?
Managing your accounts makes clear sense when your business is small and easy to manage as compared to a large business. It helps you know the exact cash flow into your business which keeps you informed about your business fortunes. At any time and at any moment you can check your financial health situation and make decisions to improve the cash flow.
However, as your business grows it becomes inevitable that you may need an accountant as well. Legal and financial penalties can occur in case of poor bookkeeping.
Having the right accounting software will make a tremendous change and a huge difference to any small business. As your business grows your business needs require scalability and flexibility.
Does Accounting Software Handle Payroll?
Most of the accounting software options on the market today are allowed to integrate with the payroll systems. This feature ensures a high degree of compatibility between the two even if the developer companies are different. Both modules work together to allow maximum business efficiency and profitability.
What is the Conclusive Perspective?
In the market, there is much software available for your services and benefits for the small business but SMACC holds a significant place among all the software. You can not deny its savage importance and role while stepping ahead in your business performance with dignity and confidence. It is a cloud-based software that helps you improve your cash flow rate and directs your small business on the path of continuous growth and prosperity.
How Can Content Marketing Help Young Parents Get the Childcare They Need?
Childcare is a nightmare for young parents. Not only are they not surrounded by the type of community as a generation ago, but they're struggling to get by. In the absence of such a support system, young parents will need all the help they can get. There are services out there that can help them with childcare. Content marketing can help lead them to the best ones.
Blogging for Young Parents
Blogging for advertising childcare services is a very effective strategy. Young parents, or parents of this generation, have a habit of reaching for Google when they have a question. Hence, blogs and websites that hold the answers can be valuable to them.
The entire premise of content marketing for childcare stems from this. When parents find a blog or a website that they can trust, it automatically puts them into a position to subscribe to it. This is why childcare businesses need to employ content marketing. They can get to a lot more people this way.
Blogs can help young parents find the information they need, as well as peace of mind. Sharing stories of fellow parents that are struggling, and interviews with happy families can help them get through parenting. Content marketing through blogs and using tools like video, images, and personal stories can be very effective.
Creating Content Partnerships
Share
One great way to advertise childcare services is to create digital content partnerships with publications. You can publish on guest blogs or magazines to increase your credibility. This not only gets your attention but improves your authority on a certain subject. This can drive more sales towards you and even popularize you in the public eye as a trustworthy source.
Focus on Creating Valuable Content
Share
As mentioned above, young parents in today's world are bereft of the kind of support structure once present in societies. With more and more people moving away from home and living in apartments, families are becoming scarce. With people living in single apartments and drifting away from neighborhoods, it's easier to be alone than ever before. This support structure breakdown leaves young parents on their own most of the time. Unless their parents or their relatives can come over and help them, they're usually in a mess.
Think about it this way. This generation is so prevalent on their devices that they immediately Google something when they face a problem. It's a reflex now more than a response. It's something that we just deem automatic when we face a problem or have a question.
In this regard, valuable content can help young parents deal with their new responsibilities. For instance, blogs about how to feed children or how to help them sleep can help. Blogs about the most common illnesses or ailments that children have can also help them deal with tricky situations. Old remedies and tricks that still work that are passed down over generations can also help young parents raise children.
Valuable blogs can also offer young parents that are loyal readers some discounts for childcare services. They can be given special offers or invited to workshops where they can learn to be better parents.
Create Individual Landing Pages
Landing pages are great tools that can help get web traffic for businesses. However, they're also great tools for customers to find exactly what they're looking for. For instance, parents that live in Trenton would usually look for childcare centers in Trenton. Hence a landing page with keywords or key phrases like that or resembling that will track well for those searches. This can work for different countries, cities, regions, etc. Where ever young parents reside where they need childcare, landing pages can help them find what they need.
On the flip side, specific landing pages can also work for young parents that require specific types of childcare. Some childcare focuses more on sports and playing rather than education. Other childcare can focus more on the latter and less on the former. Hence, parents can choose which childcare to put their kids in depending on the information available. Specific landing pages that target parents that need these services will have a better chance of getting traffic.
Content marketing for childcare services can be a boon to young parents. It can be a window to many services they desperately need in the modern era. Well-written blogs with practical tips can help young parents in times of need by offering them several useful strategies on raising their children. Content marketing can also help parents gain from the wisdom of previous generations and current parents. By reading blogs written by middle-aged or senior parents, young parents may find some comfort and encouragement. All this makes content marketing a must-have strategy for childcare providers.
Real World Cases of Blockchain Entering Other Industries
Blockchain is a revolutionary technology that has begun to permeate into a range of other industries. From finance and medical healthcare to art and marketing, blockchain is disrupting and transforming whole fields as it continues to develop.
In this article, we'll be taking a look at real world cases of blockchain being used within marketing, PR, and advertising. We'll be discussing:
Spotify
MatchPool
De Beers
and the Blockchain PR and Marketing industry as a whole
Let's jump right into it!
Spotify
Back in 2017, Spotify announced that they were going to begin to incorporate blockchain into their daily system of operations. Their plan was to use the decentralized database that blockchain runs on to give a more transparent picture to artists about who owns and earns on certain tracks.
They were about to do this as one of the main benefits of blockchain is how accessible it makes data. Instead of hiding data, every single blockchain transaction is completely transparent. By incorporating blockchain in this way, they have made it so you can see who is involved with a song on the platform. This extends from the singers and the songwriters all the way to the label that released the song.
This transparent form of data sharing allowed for artists, songwriters, and producers to always be fairly attributed with their own work. This eradicated the industry problem of people not getting total credit for their work and resulted in a much fairer system.
MatchPool
Matchpool is an application that uses blockchain currency trading to incentivize their users to participate in certain communities. For example, by using the Matchpool dating app, you'll be able to receive Guppy Tokens. These can then be redeemed in the application, or purchased and traded or exchanged.
This payment for usage feature works as blockchain can more accurately record transactions. The unalterable style of blockchain ensures that everyone who spends X amount of time on the app is awarded the correlating amount of digital currency.
Alongside this, the incentivization this company uses makes sure that people flock to their products, loading up their networks and ensuring they run smoothly.
De Beers
Having absolutely nothing to do with beer, this application is the very first platform that uses blockchain to track the history of a diamond. Within this application (named Tracr), you'll be able to see an incredible wealth of data on a diamond – from where it was mined, to who cut and polished it, all the way to who currently owns it or at which jeweler it is located.
The transparency of blockchain ensures that this app gives accurate information on their diamonds. As records within blockchain systems are tamper-proof, each of the records is certified as authentic. This form of data sharing then allows people interested in buying diamonds the certainty that they are buying a real diamond and from a reputable source.
Once again, blockchain's transparency has led to strides in this app's development.
The Rise of the Blockchain Marketing and PR Industry
The rise of blockchain has led to a new form of PR and marketing to spring up – one that is wholly devoted to the social development of this particular industry.
Considering the history of blockchain scams, many social platforms did not allow blockchain to advertise on their platforms. Due to this, blockchain PR and blockchain marketing firms had to take to other social platforms.
This led to the redevelopment of the industry, these new platforms needing distinct techniques and PR strategies. One blockchain marketing and PR firm, GuerillaBuzz, composed the following graphic to show the top blockchain PR social sites:
As you can see, whereas normal PR would expect to see sites like Facebook and Twitter, they are nowhere to be found in this industry.
The development of blockchain has led to the upsurge of new industry developments.
Final Thoughts
Even though it is still only in its early days, blockchain is one of the most impactful changes that is beginning to permeate into a range of industries. No matter which industry you work in, its likely that blockchain will begin to take effect – if it hasn't already!