How Apple's Mac Mini M1 Is Winning Over Livestreamers
TheMac Mini M1 is among the most affordable Mac computers with base models now retailing for $699, down from $799
The new Mac Mini M1 packs more power than the previous model and can now handle image editing and video rendering tasks
It supports Intel-based third party apps through an emulation layer provided by Rosetta 2
The Mac Mini M1 is one of the first Apple computers to run the in-house ARM-based M1 processor, alongside MacBook Pro and MacBook Air. Although often overlooked, the Mac Mini is one of the most affordable desktop computers for livestreamers and professionals who want a compact desktop that can handle moderately demanding tasks.
The latest Mini Mac M1 is an upgrade of the 2018 Intel-based Mac Mini, and has been described as a "powerhouse" due to its new M1 processor, improved performance, and power efficiency. But does it measure up? In this guide, we break down everything you need to know about Apple's Mac Mini M1.
Design
From the exterior, the Apple Mac Mini with the M1 chip could be confused with the 2018 Mini Mac. It has retained the iconic square shape and rounded corners. The Mac Mini M1 has inherited the silvery aluminum unibody exterior with the Mac logo etched on the top center.
The computer has a black round plastic disc on the bottom to elevate the desktop slightly for proper ventilation and provide internal access to its accessories. However, the Mac Mini M1 is not serviceable and you cannot upgrade it DIY-style like the older Intel models.
Size and Weight
The newly designed Mac Mini retains many of the design aspects of the older model. It's small and compact, measuring only 7.7 inches on each side and 1.4 inches thick. It easily fits in small workspace and can be placed it a desk. For live streamers who are always on the go, it can be stashed in a travel bag, as it weighs just 2.9 pounds and is compact enough for light travel.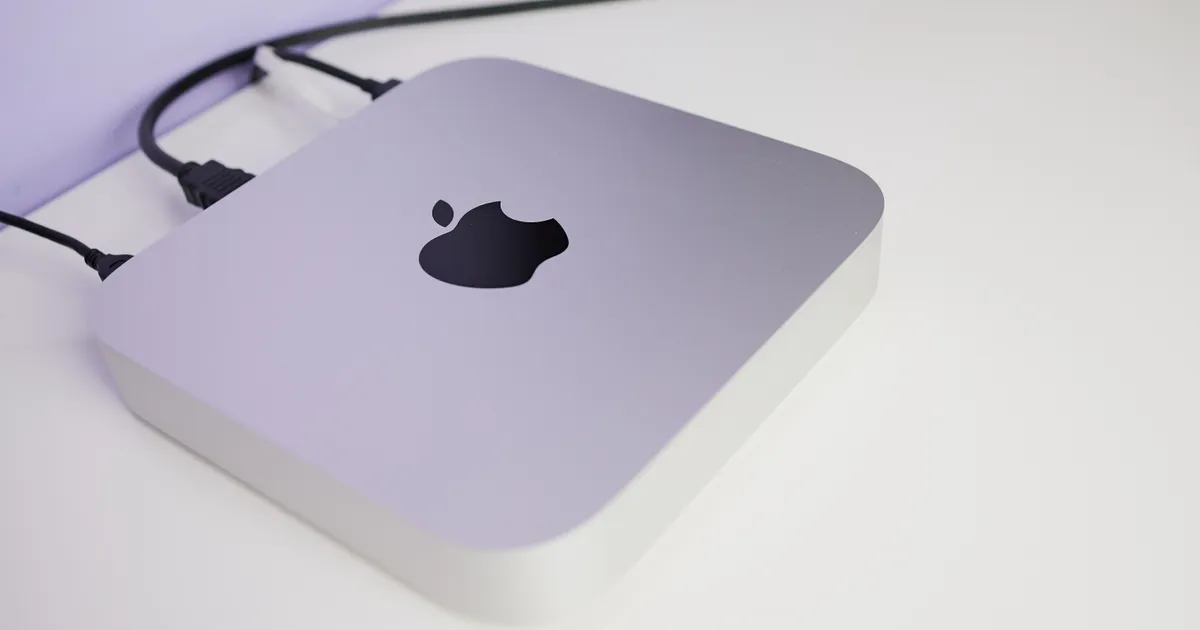 Shutterstock
Ports
One of the notable changes with the 2021 Mac Mini is the selection and number of ports. It comes standard with two Thunderbolt 3 ports, two USB-A Ports, an HDMI port, an Ethernet port, and a 3.5mm headphone jack. These ports are clustered on a black plastic strip at the back of the computer.
There are several differences when compared to the Intel Mac Mini. The M1 loses two Thunderbolts 3 ports from the late Intel model which featured four. Also, the Mini M1 can be connected to a maximum of two display screens, which is down from the three that you could connect to with the Intel Mac Mini. Only one screen can be connected over the Thunderbolt port; the other display must be connected over HDMI.
Additionally, the Mac Mini M1 is configured with a 1-gigabit connection unlike the Intel model that offered a 10-gigabit connection. Although 1-gigabit is sufficient for the average user, it could be a limiting factor for some media professionals.
RAM
The Mac Mini M1 base model comes with 8 GB of RAM, but can be upgraded to 16 GB at the time of purchase. This is a downgrade from the Intel Mini Mac, which could support up to 64 GB of RAM. However, Apple states that the Mini M1's RAM that is integrated on the M1 chip is different from standard RAM and has better performance and speed.
The M1 desktop uses a unified memory structure, which means that the RAM isn't sitting in a memory slot. Instead, it is built into the M1 chip structure, along with the graphics unit, main CPU, and auxiliary processors. Apple says that the unified memory structure allows the components to access the same data to boost performance and ensure power efficiency for longer battery life.
Storage
The Mac Mini M1 base model comes with 256 GB of SSD storage. However, at the time of purchase, it can also be configured to support 512 GB, 1 TB or 2 TB of SSD storage. Unfortunately, the storage is soldered in, which this means you cannot upgrade it or swap drives after the fact. If you need additional storage after purchase, you'll have to buy an external drive.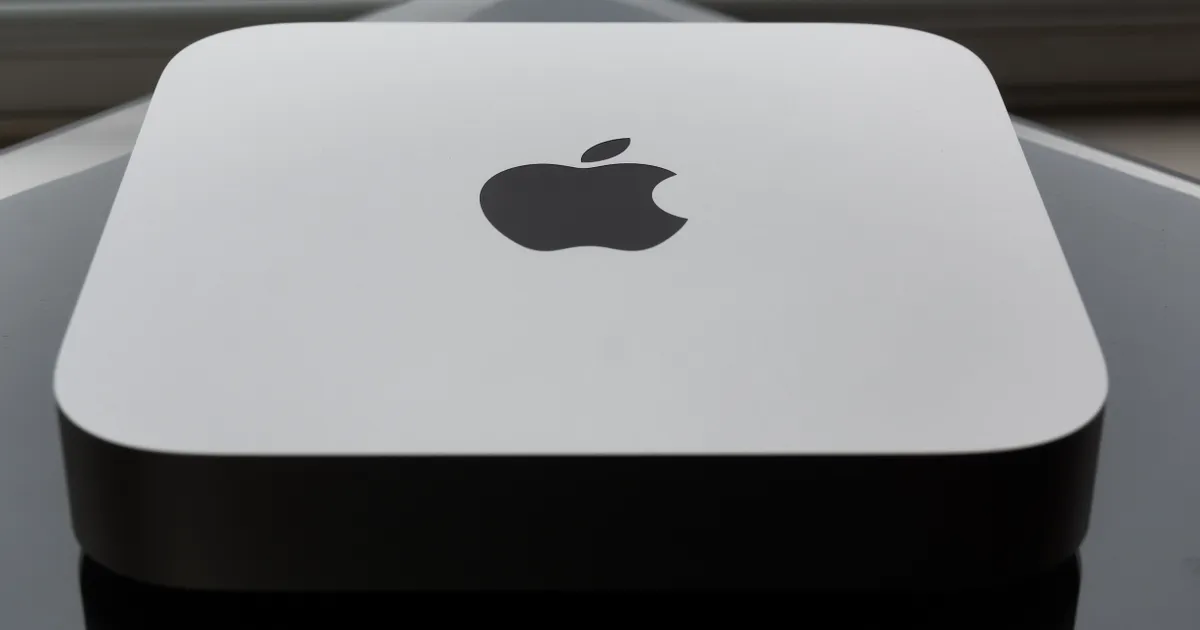 Shutterstock
Performance
After switching to a new processor, there were doubts whether the Mac Mini M1 would measure up. But the M1 takes a giant performance leap for its price point. It comes standard with 8 GB of RAM and 250 GB of SSD storage, and is among the cheapest Mac desktops you can buy.
The M1 processor is built using the ARM architecture, which is more power-efficient than Intel's x86 architecture. You can run multiple apps like podcasts, Microsoft Word, Login Pro, Chrome, and more at the same time without experiencing any lags or freezing. It can handle image editing, video rendering, and other tasks needed by livestreamers.
Big Sur and Rosetta 2
TheMac Mini M1 comes with macOS Big Sur, which supports both Mac and Intel processors, and is the first to be built for the Apple M1 processor. It also includes Rosetta 2, a translation process that allows apps designed for Intel x86 architecture to run on the M1 processor. Since most apps are written for Intel Hardware, Rosetta 2 provides an emulation layer to run non-Apple apps on the new processing hardware.
Mini Mac M1 CPU and GPU
Apple promises faster performance – up to 3x – for the Mini Mac M1 with an 8-core CPU. The CPU is comprised of four performance cores and four efficiency cores to handle demanding tasks with different levels of power draw. The efficient cores handle less demanding tasks like reading emails and browsing while the performance cores handle more demanding tasks like image and video editing.
The 8-core CPU is integrated with an 8-core GPU, which increases speeds for power-intensive tasks like video rendering and gaming. Apple claims GPU speeds are 6x faster than the Intel chip and it can execute 25,000 threats at the same time. It combines improved graphic performance and lower power consumption – ideal for livestreamers.
Neural Engine for Machine Learning
The Mini M1 is equipped with a 16-core Neural Engine to handle machine learning tasks. The neural engine can execute up to 11 trillion operations per second, making it 15x faster. Apps such as Pixelmator and Final Cut Pro that use machine learning in their function benefits from this with obvious increased speed and efficiency.
How Much Does Mac Mini M1 Cost?
Apple dropped the price for the Mac Mini M1 base model (8GB RAM and 256GB SS) from $799 to $699 USD, making it the cheapest Mac on the market.The next configuration up bumps the storage up to 512GB, which retails for $899. You can double the RAM to 16 GB for an additional $200, or increase the SSD storage to 1 TB or 2 TB for $400 and $800 respectively. If you want the top configuration, expect to pay about $1,599.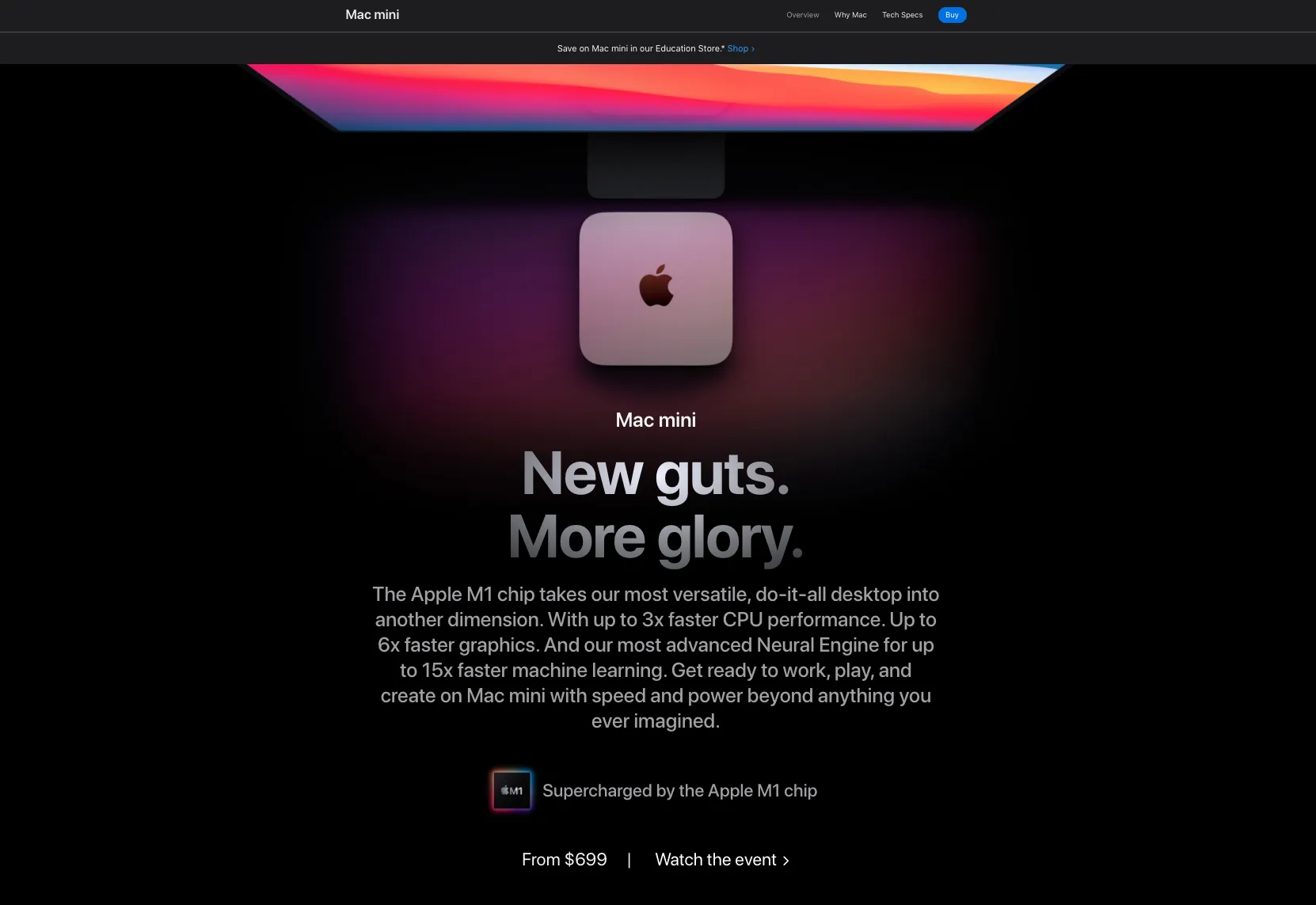 Screenshot: Apple.com
Cons of the Mini M1
The Mini M1 is among the first Apple products to use the M1 processor and was expected to have some drawbacks. First, there have been some hitches with Rosetta 2 compatibility with apps running on the Intel chip. Some third-party apps don't run on the M1 app and users are forced to try alternative compatible apps.
It would have also been ideal if the M1 version retained all the ports available on the Intel Mac Mini. If you need to use multiple accessories and external devices you may be forced to use a docking station.
Should You Buy Mac Mini M1?
If you are looking for a solid-performing desktop for live streaming, the Mini M1 is a good choice. As a first-generation product and among the first Macs to use Apple's own processor, the M1 has set a new bar for compact desktops. It offers superior features at a surprisingly affordable price.
Although it is not a perfect machine, Mac's Mini M1 has superior features than comparable desktops, which fetch a higher price, and is great pick for users looking for a computer to handle moderately demanding tasks like live streaming.
Why I Ditched Microsoft Excel for Google Sheets (And Why You Should Too!)
Hey there, fellow spreadsheet enthusiasts! Today, I want to share my journey from being a die-hard Microsoft Excel fan to becoming a Google Sheets official nerd. Believe me, it wasn't an easy decision, but after experiencing the wonders of Google Sheets, there's no turning back.
I've done so many other tech reviews, it just felt right to do one on Microsoft Excel vs. Google Sheets. So, grab your virtual seat, and let's dive into why you need to stop using Microsoft Excel and start embracing the awesomeness of Google Sheets.
Excel, We Had a Good Run…
I've had a long and fruitful relationship with Microsoft Excel. We've tackled countless budgets, analyzed heaps of data, and even played the occasional game of spreadsheet Sudoku (admit it, we've all been there). But as the years rolled on, it became evident that Excel had its limitations, and it was time for a change.
The Love-Hate Relationship with Excel
Don't get me wrong; Excel is a powerhouse when it comes to crunching numbers and performing basic calculations. It's like that trusty old calculator you had in high school. However, when things get complex, Excel can feel like trying to solve a Rubik's Cube blindfolded – frustrating and time-consuming.
Why I Fell Out of Love with Excel:
Collaboration Nightmares: Ever tried collaborating with multiple people on an Excel file? It's like trying to play a symphony with a broken piano. Google Sheets, on the other hand, offers real-time collaboration. It's like having a jam session where everyone is in sync.
Formula Frustration: Excel's formulas are like a secret society's code. Nested IF statements? Array formulas? It's a maze. Google Sheets simplifies this with a user-friendly formula bar that guides you, making complex calculations less intimidating.
Data Size Drama: Excel has its limits, and sooner or later, you'll bump into them. Large datasets can bring Excel to its knees. Google Sheets handles big data gracefully, giving you the freedom to analyze without constraints.
Dated Data Visualization: Creating charts and graphs in Excel is like painting with finger paints. Google Sheets offers sleek, modern data visualization options that can turn your data into works of art.
Mobile Accessibility: In a world where we're always on the move, Excel's mobile app falls short. Google Sheets' mobile app is user-friendly and lets you access your spreadsheets from anywhere, anytime.
Automatic Backup: Excel doesn't automatically save your work, and one wrong click can erase hours of effort. Google Sheets automatically saves your changes, so you can breathe easy knowing your work is secure.
Free or Affordable: Let's talk money. Excel can be pricey, especially if you need advanced features. Google Sheets offers a free version and affordable subscription options that won't break the bank.
Data Security: Sharing sensitive information via Excel can be risky. Google Sheets provides secure, permission-based sharing, ensuring your data stays safe and sound.
Why I Fell in Love with Google Sheets:
Now that you know why I had to part ways with Excel, let me tell you why Google Sheets became my new spreadsheet crush:
Seamless Collaboration: Real-time collaboration is a game-changer. With Google Sheets, my team and I can work on the same spreadsheet simultaneously, leaving version control issues in the past.
User-Friendly Formulas: Google Sheets' formula bar guides you through creating complex formulas, making even the trickiest calculations manageable.
Data Freedom: The freedom to work with large datasets without worry is liberating. No more hitting Excel's limits and sacrificing data.
Modern Data Visualization: Visualizing data has never been easier. Google Sheets offers sleek chart options that help convey insights effectively.
Mobile Magic: Google Sheets' mobile app keeps me productive on the go. I can access and edit my spreadsheets from my smartphone or tablet without a hitch.
Automatic Peace of Mind: Knowing that Google Sheets saves my work automatically is a weight off my shoulders. No more "did I save that?" moments.
Budget-Friendly: Google Sheets' free version has impressive features, and their paid plans are affordable, making it accessible to all budgets.
Top-Notch Security: Secure sharing options ensure my data remains confidential, granting access only to those who need it.
In Conclusion
Breaking up with Microsoft Excel wasn't easy, but transitioning to Google Sheets was one of the best decisions I ever made. It's more than just a spreadsheet tool; it's a game-changer for productivity, collaboration, and data analysis. So, my fellow spreadsheet fanatics, it's time to make the switch. Embrace the future with Google Sheets, and you'll wonder why you didn't do it sooner. Trust me; your spreadsheets will thank you!
How safe is my data after a hack or leak?
The UK's elections watchdog revealed on Tuesday it had been the victim of a "complex cyber-attack" potentially affecting millions of voters.
It also emerged personal details of police officers in Northern Ireland were published accidentally.
But what can you do if you are concerned your data may have been leaked, and how can you prevent issues?
How safe is my data?
Generally, when public organisations such as the Police Service of Northern Ireland (PSNI) respond to Freedom of Information requests they should remove any identifying data.
But in this case the force published confidential details by accident, leaving some officers and their families with concerns about their safety.
However, an average person affected by a data leak or hack should not panic.
Regarding the cyber-attack affecting UK voters, the Electoral Commission has apologised to those affected but says on its website the data it holds is "limited, and much of it is already in the public domain".
"According to the risk assessment used by the Information Commissioner's Office [the data regulator] to assess the harm of data breaches, the personal data held on electoral registers, typically name and address, does not in itself present a high risk to individuals," it says.
This information could be combined with other bits of data about you, such as what you share on social media, to identify you – but this takes a lot of time and cyber criminals will generally only target prominent individuals like this.
And unless you have opted out of being named on the open electoral register, much of this information will already be publicly available online.
If you are concerned about a different data breach, and are worried your information may have been lost, there are also websites which will tell you if your email was part of a known data breach.
The Electoral Commission specifically recommends people use the free online service Have I Been Pwned (sic) to check this.
What can I do to keep my data safe?
If you believe your password to an account may have been compromised, it makes sense to change it.
But you should be mindful not to respond to any emails recommending this, as they could be attempting to scam you – instead you should visit the website as normal, and change your password there.
This is also why it is important to have different passwords for different accounts.
By always keeping different log-in credentials, a future hack is less likely to affect you seriously as the hackers will not be able to use your data beyond accessing a single service you used.
Another thing people can do is to remain vigilant online to avoid any data loss.
Recent research from Barclays released on Wednesday shows that 87% of all scams take place on tech platforms, such as dating apps, social media and online marketplaces.
It says these scams are on the rise, and it wants tech platforms to shoulder some of the liability.
"Without the joint help of tech organisations, the Government, and regulators, we risk enabling the unchecked growth of what is now the most common crime in the UK, hurting countless individuals, and costing our economy billions each year," says Barclays CEO Matt Hammerstein.
"Our data shows that tech platforms – particularly social media – are now the source of almost all scams. However, there is no current legislative or regulatory framework obliging the tech sector to support the prevention of these crimes, as there rightly is for banks."
But there are a few simple steps you can take to stay safe online, which can help protect your data – and your wallet.
These include using a strong password for each site you visit, avoiding emails from people you do not know, and being careful when visiting unfamiliar websites.
The Rising Importance of Managed IT Services with Proficiency in Apple Devices for Today's Business Landscape
In the rapidly evolving world of business technology, there's an undeniably prominent shift toward Apple devices. Their sleek designs, unparalleled security features, and user-friendly interfaces have made them a favored choice among business professionals. Yet, the challenge remains: how do businesses ensure they're tapping into the full potential of these devices while ensuring security, efficiency, and smooth integration into existing systems? Enter managed IT services companies, particularly those that are Apple aficionados.
If you're a business owner or decision-maker, you've likely encountered the classic dilemma: hiring in-house IT specialists or outsourcing. With the increasing reliance on Apple devices in modern businesses, it's not just about finding IT support but the right IT support.
Why Apple?
Apple's ecosystem is unique. It's not merely about devices but also the secure, interconnected universe they create. An iPhone syncs seamlessly with a MacBook or an iPad, leading to an integrated working experience. However, with this high level of sophistication comes the necessity for specialized knowledge.
"You wouldn't hire a general handyman to fix a specific issue with your car. Similarly, hiring general IT support might not do the trick for businesses that rely on Apple devices. They need specialists," points out Aaron Kane of Machero in Chicago.
The Perks of Outsourcing to Apple-Savvy Managed IT Services
The advantage of partnering with a managed IT service familiar with Apple's world is multi-fold. They bring a deep understanding of Apple's operating systems, know the best practices for integration, and can troubleshoot issues specific to Apple products. This expertise is often hard to find in generic IT teams.
Furthermore, such companies can help businesses deploy Apple devices in a way that they're used to their maximum potential. They understand the nuances of iOS, macOS, and other Apple-specific software and can guide businesses in deploying tools and applications best suited to their needs.
Ed Anderson of Dyrand Systems in Vancouver (Visit their website) echoes this sentiment. "Modern business operations demand agility. And in a landscape dominated by Apple devices, you need IT support that speaks Apple's language fluently. Outsourcing to managed IT services that are Apple specialists is more than a trend; it's a strategic move."
The Security Element
Security is one of Apple's hallmarks. Yet, the best hardware and software security features can be undermined if not handled appropriately. Regular updates, patches, and knowledge of potential threats specific to Apple's ecosystem are crucial.
Jorge Rojas with Tektonic Managed Services emphasizes the security component. "When we talk about Apple devices, we're looking at a different kind of architecture, both in hardware and software. The threats these devices face, while fewer than others, are unique. A managed IT service team that is well-versed in Apple's realm is your best bet against potential cyber threats."
In Conclusion
Today's business world isn't just about adopting the best technology and understanding and integrating it seamlessly into one's operations. With their growing popularity in the corporate world, Apple devices come with their own demands and intricacies. While these devices offer many advantages, leveraging them requires specific skills and expertise.
The choice is clear for businesses keen on not just surviving but thriving in today's tech-centric environment. Partner with a managed IT service that knows Apple inside out. It's an investment that promises smooth operations and a competitive edge in a landscape where technology is the game-changer.