How to Access or Use UEFI Firmware Settings in Windows
UEFI is a firmware that controls every component connected to your computer. You can enable/disable the entire hardware components and even overclock a few of them through UEFI.
However, accessing and using the UEFI firmware can be a little tricky—especially if you have just gotten into tweaking hardware settings. In fact, not every motherboard has UEFI firmware settings enabled as default—old motherboards run in classic BIOS mode or Legacy mode. 
Below, we have discussed a few ways you can access and use the UEFI settings.
How to Access UEFI Firmware Settings?
Your motherboard's BIOS operates in two different modes, UEFI and Legacy or CSM (Compatibility Support Module). If the BIOS is in Legacy or CSM mode, you cannot access the settings and configuration available in UEFI.
Here's how you can use the system information to check your current BIOS mode.
Simultaneously press the Windows + R key to open Run.
Type msinfo32 and press Enter.

On the left panel, click on System Summary.
Now, check the Item column on the right panel for BIOS Mode. Check its corresponding value.

Using BIOS Key
Using the BIOS to enter UEFI mode is probably the easiest compared to the advanced startup method. Turn on your PC and repeatedly press the BIOS key on your keyboard to enter the BIOS.
| | |
| --- | --- |
| Motherboard/Laptop Manufacturer | BIOS key |
| HP | Esc |
| Dell | F1, F2, F3 or Delete |
| Lenovo | F1 |
| MSI | Delete |
| Razer | F1 or Delete |
| ASUS | F1, F2, F10, F12, or Delete |
| Acer | F2 |
| Gigabyte | Delete |
BIOS Key for Different Motherboard
Advanced Startup
Windows users can easily enter the UEFI firmware settings using the Advanced Startup menu. The advanced startup menu allows you to access all the startup settings and UEFI firmware settings, uninstall updates, perform a startup repair and even restore the system. 
Press the Windows icon and I key simultaneously on your keyboard to open Windows Settings.
On the left panel, click on System.
Now, on the right panel, scroll down and select Recovery.

Under Recovery options, on Advanced startup, click on Restart Now to boot the system into Advanced Startup.

Once the system restarts and you are in Choose an option screen, click on Troubleshoot.

Select Advanced options.

Among the list of items, select UEFI firmware settings.

Now, click on Restart.
Once the system restarts, it will directly load into the UEFI firmware settings.
Can't Access UEFI Settings?
Most of the time, repeatedly pressing the BIOS key during boot or using advanced startup will most likely boot you into UEFI BIOS. However, if that does not work, settings in the BIOS itself could be causing the system from accessing UEFI settings.
For instance, if you have fast boot enabled, you may not be able to access the UEFI even when you repeatedly press the Delete key. In such a case, you need to disable fast boot.
Besides, you can try resetting the BIOS and check if you can access the UEFI settings. Resetting the BIOS will revert any changes made to the system, and set all its settings to the default state. There are several ways you can reset the BIOS. Since you cannot enter the BIOS, we recommend removing the CMOS battery to reset the BIOS.
How to Use UEFI Settings?
Once you have access to UEFI settings, you can change settings related to every hardware component connected to your computer. If your motherboard and CPU support it, you can even boost your system performance by adjusting the right configurations. However, in this article, we have only discussed a few basic UEFI settings.
Set Motherboard Date and Time
Your motherboard keeps track of the current date and time so that the system has access to the correct time. Incorrect system time may stop some components from functioning.
Incorrect date and time mean the PC will run into problems when performing scheduled tasks, it will add an incorrect date and time stamp to a file, and some applications that require internet access may even run into authorization issues.
Enter the BIOS by repeatedly pressing the BIOS key during startup.
Search for settings named Date and Time in System.
Once you find the Date and Time settings, you can adjust them using a mouse or the keyboard.

Set Boot Order
Another crucial UEFI setting is the Boot order. The boot order sets a list of storage devices that the UEFI BIOS searches for when loading the Operating system. If the BIOS cannot find the OS in any of the storage devices, you will run into a "Boot device not found" error.
Furthermore, if you are installing the OS using a USB flash drive, you need to set said USB drive to the top of the list.
If the BIOS is in CMS or Legacy mode, you cannot access some of the settings available on UEFI firmware. A particular setting that's not available in Legacy BIOS is the option to access Secure Boot.
To change the BIOS mode to UEFI,
TPM or the Trusted Platform Module adds a layer of hardware security to your system. It stores hardware encryption keys and digital certificates. Some Operating system also requires you to enable TPM first before installing them.
Enter the motherboard BIOS.
Search for settings named TPM for Intel motherboards and fTPM for AMD motherboards.

Save and exit the BIOS.

Besides TPM, Secure Boot is also another security feature that you can find on your motherboard's UEFI which prevents malware from loading when the system boots. Like TPM, some OS also requires you to enable Secure Boot before installing it.
In BIOS, search for settings named Secure Boot in Windows OS configuration, System Configuration, BIOS, or Boot Security.
Set Secure Boot to enabled.

Control Fan Speed
UEFI also allows you to check your current fan speed. Besides this, you can even control the CPU and system fan speed so that it does not reach extreme temperature. 
The UEFI may also have a temperature-RPM graph that automatically changes the fan's RPM (Rotations Per Minute) depending on the temperature.
Check PC Health
PC Health displays the current system status like CPU voltage. DRAM voltage, CPU temp, CPU fan speed, system temperature, supplied voltage, and optimal voltage. Using these readings, you can determine the PC is in good condition.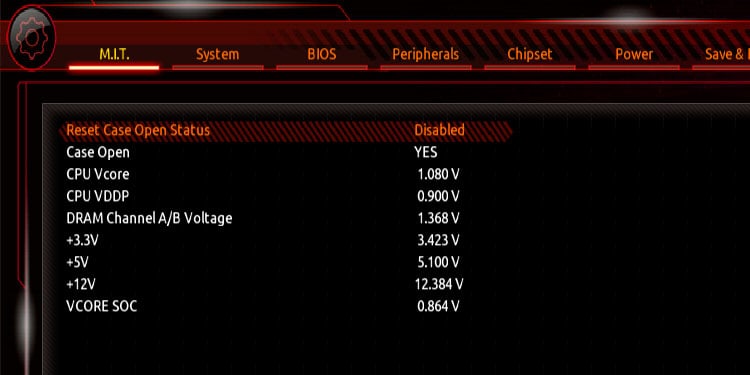 https://7312644cbdc5b80bc65e17de6445d6f8.safeframe.googlesyndication.com/safeframe/1-0-40/html/container.html
You can check your PC's health inside settings named PC health, System Health, or PC Health Status.
Overclock Settings
When overclocking, you increase the clock speed and simultaneously increase its voltage. But when done to the extreme, it puts a lot of strain on the hardware. This might result in permanent damage to the overclocked component.
Your Guide To Applying For An LEI Code In Norway
Are you a Norwegian company that needs to register for an LEI (Legal Entity Identifier) number? If so, this post will provide you with a comprehensive guide on applying for an LEI code in Norway.
We will cover the essential information you need to know about LEI codes, the process of applying for one, and the best resources to obtain your LEI number quickly and easily. Read on for more information!
What Is An LEI Code?
An LEI (Legal Entity Identifier) code is a unique, 20-character alphanumeric code used to identify a legal entity in financial and business transactions. It is issued by the Global Legal Entity Identifier Foundation (GLEIF) and is intended to provide transparency and reduce risk in the global economy. The code helps financial institutions, regulators, and other parties in identifying and tracking entities in financial transactions. It is also used to ensure compliance with regulations such as Anti Money Laundering (AML) and Know Your Customer (KYC). In Norway, an LEI code is required for all companies trading stocks on the Oslo Stock Exchange.
The LEI code consists of four parts. The first four characters represent the country code. The next three are the entity's Local Operating Unit (LOU) or registrar, while the next 12 are randomly generated numbers unique to the company. The last character is a checksum. This allows computers to identify any errors in the LEI code, ensuring that each one is valid and accurately represents the company.
The LEI code is important for businesses since it enables them to identify their legal entities quickly and easily. It also helps reduce risks associated with financial transactions by accurately identifying counterparties and ensuring that companies meet their obligations under applicable laws and regulations. Finally, having an LEI code can also benefit businesses in terms of creating trust with customers, investors, and partners.
See also Nvidia to stop sale of AI chips to China on official US orders
How To Apply For An LEI Code In Norway
For many Norwegian businesses, obtaining an LEI code (Legal Entity Identifier) is an important step in managing their finances. An LEI code is a unique identifier that allows businesses to track and manage their finances across international markets.
The first step in applying for an LEI code in Norway is to find a reliable provider. There are many LEI providers in Norway, so it's important to research before committing to one. Consider factors such as the cost of obtaining the code, the level of customer support, and the provider's reputation. Once you have selected a provider, you can begin the registration process.
The next step is to provide the provider with the necessary information about your business. This includes the business name, address, and contact details. You will also need to provide legal documents such as Articles of Incorporation and banking documents. Once all of the information has been provided, you can submit your application.
The LEI provider will then review your application and make sure that all of the information is accurate. Once all of the information has been verified, they will issue you an LEI code. If there are any discrepancies, they may request additional documentation or require that you resubmit your application.
Finally, once you have received your LEI code, it's important to keep it up to date. To do this, you must renew your code every year by submitting updated documents and paying the applicable fees. It's also important to make sure that your code remains valid by notifying the LEI provider of any changes to your business details.
See also mRNA Vaccine Production Could Pave the Way for Emerging Cell and Gene Therapies, Says Lead Scientist at CDMO Samsung Biologics
By following these steps, you can easily apply for an LEI code in Norway. An LEI code is an important tool for businesses looking to grow their presence in international markets, so make sure you take the time to get it right.
The Benefits Of Having An LEI Code
An LEI (Legal Entity Identifier) is a global standard for identifying businesses and organizations that participate in financial transactions. It securely identifies and monitors financial transactions, enabling companies to comply with relevant regulations and reduce operational risk. Having an LEI nummer is essential for any Norwegian company involved in trading stocks and other financial instruments.
Here are some of the benefits of having an LEI code:
1. Enhanced credibility – An LEI code can be used to validate a company's legal status and identity, which boosts its credibility among investors and other stakeholders.
2. Streamlined regulatory compliance – An LEI code allows financial institutions to easily identify their counterparty, simplifying the process of complying with regulations such as KYC (Know Your Customer).
3. Improved transparency – By facilitating the identification of businesses involved in financial transactions, an LEI code promotes greater transparency within the market, allowing for better decision-making by investors.
4. Increased efficiency – An LEI code reduces the need for manual verification of business information and can help improve the speed of transactions.
5. Reduced risk – With increased transparency and reliable data provided by an LEI code, financial firms can better manage their risk exposure and identify potential areas of concern.
See also Significance of Face Liveness Check in the FinTech World
The Best Resource To Register For An LEI Code In Norway
Finding a reliable and effective resource for LEI code registration can be difficult. Luckily, for those in Norway, the answer is simple: mapplecare.com . This website is a comprehensive source of information on LEI codes and can help you apply for one with ease. 
What makes this resource stand out is its comprehensive range of services. From LEI code issuance to LEI code renewal, they can provide all the assistance you need when applying for an LEI code. They also have a dedicated team of professionals who can provide valuable advice and assistance, making the application process smoother and easier to understand.
The website also features a secure payment system, so you can rest assured that your personal information is safe and secure. Additionally, the platform is mobile-friendly and if you register before 16.00 you will get your LEI code on the same day!
Overall, www.leicertificate.org is the best resource for registering for an LEI code in Norway. The easy-to-use interface, comprehensive services, and secure payment system make it an ideal choice for anyone looking to apply for an LEI code.
Conclusion
Having an LEI code is essential for doing business in the European Union. This guide would have helped you understand the process of applying for an LEI code in Norway and the benefits of having one. With the help of a reliable resource, registering for an LEI code can be a straightforward and stress-free process. Now that you have the information needed to apply for an LEI code, you can take the next steps to ensure that your company meets the EU's standards.
Wi-fi Extenders: What Are They, Why Do We Need Them & Are They Worth It
Many of us, including me, have that one room or spot in our houses or offices where the Wi-Fi never seems to work properly, doesn't matter how often you try restarting your router or prancing about with your laptop, you just cannot seem to get a healthy enough Wi-Fi signal.
And even if your laptop, miraculously, manages to grab onto the Wi-Fi signal it won't stay connected for long or the signal will be too weak for you to properly enjoy your online experience.
WHAT CAUSES Wi-Fi DEADSPOTS
It is unfair to blame your device, your internet service provider (ISP), your room, or even your router for Wi-Fi dead spots.
Users connected to fast-paced fiber internet services and high-tech satellite internet services like HughesNet Internet have reported suffering from these dead spots. Because these bald patches have nothing to do with where you get your internet from.
The problem is more local and related to the router inside your house.
There are three major causes of dead spots.
OBSTRUCTIONS:
Blockages around your router like concrete walls, thick wooden doors or even bushes can obstruct Wi-Fi signals from reaching your device.
INTERFERENCES:
Devices that give out or receive radio signals like telephones, televisions, or even microwaves can interfere with your Wi-Fi signals and create Wi-Fi dead spots.
RANGE:
Most modern Wi-Fi routers have a throw range of between 150 feet to 300 feet. If your router is placed fairly far away from the device you are using the signals might not reach your device and end up creating dead spots.
See also Why You Should Play Rummy on Cardgame24x7?
You can obviously try moving your router, opening the door or even leaving the room altogether, but these are off course temporary fixes and do not solve your long-term Dead Spot dilemma.
The long-term solution is Wi-Fi extenders.
WHAT ARE Wi-Fi EXTENDERS?
Now that we understand the frustrating issues Wi-Fi extenders are designed to solve let's take a look at how these essential devices work to make our lives easier.
Wi-Fi extenders basically work to boost your internet signal. They receive a radio band from your router and amplify them so that these signals can travel farther and reach your device.
Extenders are normally placed right in the middle of the dead spot they are targeted towards and the router they receive their signals from.
Extenders, also known as Signal repeaters or boosters, are generally very cheap and range from anywhere between 20 Dollars to 150 Dollars. And even the best ones generally cost less when compared to the prices of high-tech routers. And are hence considered low-cost solutions to internet signal issues.
SOME LIMITATIONS OF Wi-Fi EXTENDERS
Despite being highly useful Wi-Fi extenders are not without limitations of their own.
If you are connected to your internet using an extender you will probably experience higher latency as compared to your normal connection. The reason is simple, your internet signal now has to travel a greater distance and make more stops before reaching your device.
Wi-Fi extenders generally tend to reduce your internet bandwidth by half. As a result, your internet experience becomes fairly slow.
Repeaters are generally low-tech and cheaper as compared to modern routers and are not designed to handle extremely fast download speeds. So, in addition to lower bandwidth and higher latency, you might also have to face a much slower connection, overall.
Even though repeaters do not create their own sub-nets and belong to the same local network as your main router, they do give out their signals with a different name and so you might have to re-connect your device to the Wi-Fi every time you step into the (ex) dead spot.
See also Cloud Backup: Your Secret Weapon against Data Loss and Theft!
Because of these fairly common and frankly frustrating sets of issues technology companies have taken the traditional extender principle to its logical evolutionary conclusion and created something called Wi-Fi Mesh Networks (WMNs). Here is a brief look at how WMNs work.
Wi-Fi MESH NETWORKS
Wi-Fi Mesh Networks utilize networks of interconnected routers to provide house/building-wide signal coverage. So, instead of giving out signals from the single router WMNs use nodal networking to give out signals from multiple vantage points. As a result, almost no nook or corner of the building remains outside of the reach of the signal.
Moreover, some of these networks deploy Artificial Intelligence to manage and tweak their signal throw for more optimal coverage.
FINAL THOUGHTS
Wi-Fi dead spots are a real pain in the head for people who rely on being constantly connected to the internet. Luckily, modern technologies like Wi-Fi extenders and Wi-Fi Mesh Networks offer an easy and cheap fix to this age-old problem.
So, if you are suffering from poor signal strength in one particular area of your house do not take it out on the internet service provider because the issue does not lie at the service provider's end but inside your house. Instead just log onto Amazon, or any other e-commerce site, and buy a cheap repeater for a smoother online experience.
Why Does My Phone Say LTE Instead of 5G
Everyone desires a high download and upload speed for online entertainment purposes, such as streaming videos or playing games. The 3G network previously served us well, but it is now painfully sluggish compared to 4G, LTE, and 5G.
So now, you've just acquired the latest phone in the market, which supports 5G networks. You were looking forward to having a mobile online experience that was faster than ever before. So, why doesn't your brand-new phone connect to 5G immediately when you turn it on? Instead, the LTE connection is shown in your phone's status bar. Have you received a counterfeit phone? If this is your first time dealing with cellular network speeds and coverage, you may quickly become flummoxed. You may be confused about how to change cellular networks or why your phone only displays LTE rather than 4G or 5G. What's up? Does it not work? You may query. It should function well if you're confident you bought a 5G-enabled phone.
The fundamentals of cellular networks and troubleshooting techniques for common network problems are covered in this article.
Difference between LTE & 5G
If your phone is connected to an LTE network rather than a 5G network, it is likely the reason why you see LTE instead of 5G. For those unfamiliar, "LTE" refers to a type of network that delivers the fastest internet speeds available until the advent of 5G.
There are some distinguishing features between 5G and LTE. Wireless broadband communication using the LTE (Long Term Evolution) standard has been around since 2009. Fifth-Generation wireless networks, or 5G for short, are the newest and fastest technology being introduced to the market.
See also Free Utility Apps that Make Everyday Life Easier
See how LTE and 5G stack up against one another in terms of download and upload speeds, as well as coverage and data transfer limits.
In terms of download rates, 5G can provide up to 1Gbps, whereas LTE tops out at 100Mbps.
Coverage on 5G is still in its infancy compared to that of LTE.
Comparing the capacities of LTE and 5G, experts find that the former can support up to 1,000 devices per cell while the latter can handle up to 10,000.
In that case, what does this information imply for you? LTE is the best option if you're seeking high speeds and widespread coverage. But, 5G is the way to go if you want the newest and finest technology with the possibility of higher speeds and greater capacity.
Reasons why LTE is showing rather than 5g
Here are the most relevant reasons why LTE is showing on your phone instead of 5g:
The lack of a 5G network in your location may be causing your phone to transition from 5G to LTE. Some brands offer a map showing which countries have 5G network coverage and which new phones are compatible.
The second possibility is that your service contract forbids access to a 5G network.
Even if you know for a fact that your cellular plan supports 5G speeds, it is still possible that you may have exhausted your 5G data limit, which would cause your phone to switch from 5G to LTE repeatedly; or you have been slowed to 4G after surpassing your data cap.
Lastly, if you've double-checked everything and you know you should be connected to 5G but you're seeing LTE instead, verify if your device is set up for a 5G network.
See also The Major Benefits of Enterprise Security Assessment
Conclusion
Many have been wondering why does my phone say lte instead of 5g.To conclude, in the lack of 5G network compatibility, your device may instead show "LTE." Even if a device is capable of connecting to 5G networks, it may require a software patch or a new SIM card to do so. Furthermore, even if your device supports 5G, you may not be in an area with 5G coverage. Even though LTE and 5G are distinct technologies, they can work together to provide customers with enhanced wireless connections. You must understand the differences between 5g and LTE. After which, you will be able to enjoy the benefits of both systems.