How to Use Psychology to Hire the Best Employees
The recruitment process is about more than just screening resumes and asking the candidates a bunch of questions. As an employer, the last thing you want to do is ignore the intent behind a candidate's interest in your company.
Have they applied because the position is remote? Is this job just a stepping stone for them, or will they stay loyal to the company? Their experience is extensive, sure, but why were all these jobs so short-lived?
Here's how Whitham Group, the headhunters for renewable energy firms, combines psychology with strategic recruitment to find the answers to all the above questions.
The Importance of Body Language
If candidates don't pay attention to their body language, they might give away their innermost thoughts and feelings. If they are, however, watching their body language, you should expect them to:
Move their hands while speaking
Maintain eye contact
Assume the proper posture
Sit with their legs uncrossed
Try not to fidget
Read Handshakes
A good, firm handshake can tell you more than you think. According to Forbes, the perfect handshake should be initiated with the right hand, involve eye contact and a smile, and last no more than two seconds.
A friendly handshake gives the impression of trust, warmth, confidence, motivation, and ambition. If you haven't noticed handshakes before, it's not too late to start paying attention.
Share
Weigh Past Performance with Personality
You don't have to recruit people for a living to know that personality is the key to human relations, personal or professional. As a recruiter, you'd never hire a candidate who wasn't personable. Here's where this gets a bit tricky.
Suppose a potential employee boasts skills and achievements that span two pages of their resume but doesn't come across as warm or forthcoming. In that case, you might hire them anyway because, personality notwithstanding, they have a proven track record of teamwork, cooperation, and other things that define productivity in an organization.
That said, energy industry recruiters have to draw the line somewhere. If their client prioritizes a healthy work environment over performance, they might not recommend an unlikeable candidate.
Tell Schmoozing from Self-Promotion
A candidate must do their homework before applying for a job. They can't just show up for an interview because they fit the description, and it pays well. Recruiters appreciate a candidate who does their research about the company where they're applying for a job.
Making good with an interviewer by mentioning the company's vision and achievements and complementing them is good. However, mixing this with self-promotion reveals ulterior motives.
According to Harvard Business Review, self-promotion is associated with poor performance. A recruiter has to read between the lines and tell when a candidate is schmoozing and when they're lowkey self-promoting to recommend the right people.
Share
Search for Initiative
A willingness to take the initiative is the hallmark of a valuable team member. Solar and renewable energy recruiters test candidates by presenting them with a hypothetical situation and asking them to solve it. They want to observe their attitude towards the problem rather than the solution.
A candidate that acts like they control the situation is better than a candidate who is controlled by the solution. The best way to tell this difference is to look for someone who doesn't assign blame or sees how the situation came about, someone who completely focuses on a solution.
For instance, a candidate who doesn't recommend going to a higher authority to solve their problems but is transparent and honest with their supervisors about the situation is worth hiring.
Detect Vulnerabilities
No one is perfect. As humans, we have strengths and weaknesses, so you can't expect your candidate to be perfect, but you can expect them to be honest about it. The trick is to look for someone who is upfront and unapologetic about their shortcomings but is willing to work on them.
Recruiters can't test for everything, so they ask candidates about the rest during the interview. They don't expect a specific answer to their question; they want them to be honest.
Don't Seek Standard Answers
Candidates who give unique answers when asked standard questions generally perform well, academically and professionally. You might see their performance in the CV and have a better idea when you interview them.
If you like a candidate's answer to cookie-cutter questions and find their responses memorable, you could expect them to bring something new to the table. Think about it: imagine how sharp they'll be when responding to situations if they're this quick with their responses.
Differentiate Between Confident and Cocky
The line between confident and cocky can be quite fine. You could consider confidence that unsettles cockiness.
On the other hand, you can expect a confident and self-assured candidate to:
Be a good listener
Possess self-awareness
Reflect upon themselves
Be clear about their strengths and weaknesses
Be open about their successes and failures
Energy Executive Search Made Easy
Take the foot- and mind-work out of hiring the ideal candidate by joining hands with Whitham Group, one of the best renewable energy recruitment agencies in the Bay Area. Let their team of experienced solar and renewable energy recruiters apply a 24-step recruitment process to find you the loyal and high-performing employees you've always wanted.
How to choose a company name: generators
The creation of companies begins with its name, logo, definition of philosophy and so on. But still, it is the name of the company that has the main role and importance. From the name of the company depends on its success, brand recognition and consumer perception. The company name should be memorable, unique and easy to pronounce.
If you can not decide on the name, it is recommended to use the generator of names Turbologo. You can set certain parameters, the company's activity and get ready results in the name generator service. The service will find you unique and appropriate names by meaning, facilitate your work and provide you with options in a matter of seconds.
Ways to think up a company name
There are many ways to come up with a name, it all depends on your preferences and the relevance of the name in relation to the company's activities.
The most popular names are:
1) Many companies choose the founder's last and first name or their initials as their name. The likelihood of a name being similar to other companies is very low. Examples of such names: Pierre Cardin, Chanel, Johnson&Johnson, Siemens and others.
2) Combined words. A combination of several words is always very interesting and memorable. Facebook's name uses two words that are appropriate to the company itself.
3) Mythological names or famous characters. This is a very interesting option that is easy to remember. For example, a beauty salon might choose the name Cinderella or Rapunzel, and a sports club might be called Zeus. It all depends on your imagination, the main thing is not to repeat with other companies.
4) Rhythmic sound. This option is very quickly remembered by the consumer and attracts with its interesting name. For example, Coca-Cola, m&m's, SevenElevenKitKat, and so on.
5) A complex abbreviated name with meaning. In cases where your company name is very long you can shorten it to make it sound and easy to pronounce. Examples: H&M – Hennes & Mauritz, BMW – Bayerische Motoren Werke, KFC – Kentucky Fried Chicken.
6) you can choose a universal name that can go with everything. Usually, companies that may later change their business choose this method. Examples are Apple, Qiwi, Dreams.
To choose a name, you must take into account some peculiarities:
The name should sound concise, easy to write down and remember;
The stylistics reflect the activities of the company;
The absence of negative connotations.
Experts advise not to think too much about the name, the main thing to focus and think about how you imagine it. Sometimes you can just look around, choose a name from the surrounding objects or natural phenomena. This can be the impetus for creating a simple and ingenious name.
And no matter how perfect a name is, it won't be complete without providing quality goods and services, so you need to pay more attention to your reputation.
Name generator Turbologo will help you find the most suitable name for your company. You can choose any option you like or change it slightly.
Silicon Valley Bank: Global bank stocks slump despite Biden reassurances
How did Silicon Valley Bank collapse?
Silicon Valley Bank – which specialised in lending to technology companies – was shut down by US regulators who seized its assets on Friday. It was the biggest failure of a US bank since the financial crisis in 2008.
It had been trying to raise money to plug a loss from the sale of assets affected by higher interest rates. Word of the troubles led customers to race to withdraw funds, leading to a cash crisis.
Authorities on Sunday also took over Signature Bank in New York, which had many clients involved in crypto and was seen as the institution most vulnerable to a similar bank run.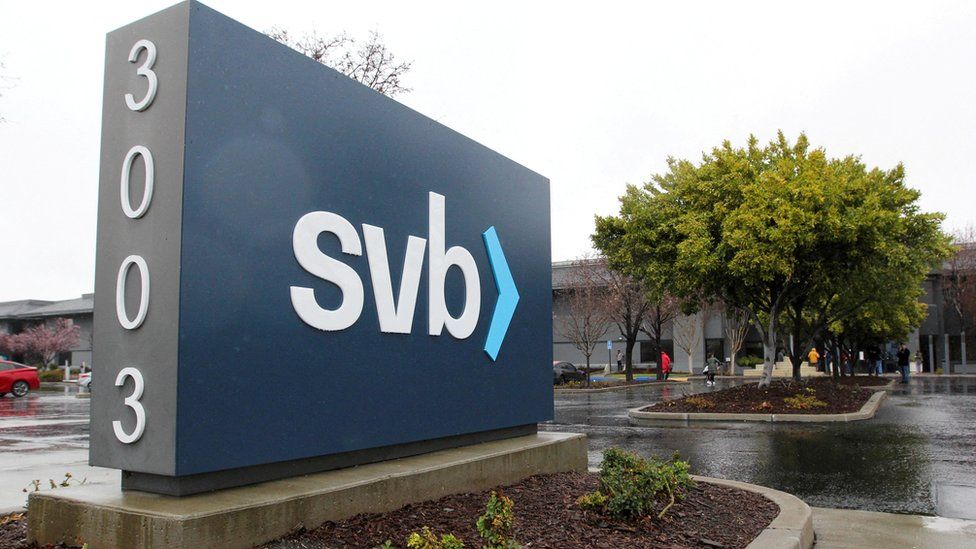 Mr Biden promised that covering the deposits would not cost taxpayers anything, and instead be funded by fees regulators charge to banks.
As part of efforts to restore confidence, US regulators also unveiled a new way for banks to borrow emergency funds in a crisis.
Yet there is concern that the failures, which came after the collapse of another US lender, Silvergate Bank, last week, are a sign of troubles at other firms.
Paul Ashworth of Capital Economics said the US authorities had "acted aggressively to prevent a contagion developing".
"But contagion has always been more about irrational fear, so we would stress that there is no guarantee this will work," he added.
Danni Hewson, head of financial analysis at the stockbrokers AJ Bell, said: "The first rush of relief has been replaced by niggling concerns that the era of high rates might be more difficult for some banks to stomach than had been previously thought.
"In the US, bank stocks slid despite Joe Biden's pledge that 'whatever is needed' will be carried out to prevent more dominos from tumbling."
Political fallout
The failure of SVB has re-ignited debates – similar to those seen following the 2008 financial crisis – about how much the government should do to regulate and protect banks.
The chair of the US Federal Reserve, Jerome Powell, says there will be a thorough and transparent review of the collapse.
Mr Biden called for tougher rules and emphasised that investors and bank leaders would not be spared.
"They knowingly took a risk… that's how capitalism works," he said.
Still, Republican Senator Tim Scott, seen as a potential presidential candidate in 2024, called the rescue "problematic".
"Building a culture of government intervention does nothing to stop future institutions from relying on the government to swoop in after taking excessive risks," he said.
Reviewing: Dior Sauvage Dossier.co
As a luxury fragrance enthusiast, we understand the importance of finding the perfect scent. With so many options on the market, it can be overwhelming to make a decision. That's why we're here to provide a comprehensive review of Dior Sauvage Dossier.co, one of the most popular fragrances in the world. In this review, we'll be covering everything from the scent profile to the longevity, and we'll be sure to provide our honest opinion on whether this fragrance is worth the investment.
Dior Sauvage is a unique fragrance that combines spicy and fresh notes to create a complex and intriguing scent profile. The top notes of bergamot and Sichuan pepper provide a bright and citrusy opening, while the heart notes of lavender, geranium, and elemi resin add a touch of sweetness and spice. The base notes of patchouli, cedar, and ambroxan create a warm and woody finish that balances out the freshness of the top and heart notes. Overall, Dior Sauvage is a well-balanced fragrance that is perfect for any occasion.
One of the most important factors when it comes to choosing a fragrance is its longevity. After all, what's the point of investing in a fragrance if it doesn't last throughout the day? We're happy to report that Dior Sauvage has excellent longevity, with the scent lasting up to 8 hours on the skin. Of course, the longevity can vary depending on factors such as skin type and weather conditions, but we found that Dior Sauvage performed well even in warmer weather.
In addition to longevity, projection is also an important factor to consider when choosing a fragrance. Projection refers to how far the scent travels from your skin, and it can determine how noticeable your fragrance is to others. With Dior Sauvage, we found that the projection was moderate – not too strong, but not too weak either. The scent stayed close to the skin for the first few hours, but gradually projected further as time went on.
Of course, the packaging of a fragrance is also important to consider. After all, the packaging can often be just as luxurious as the scent itself. Dior Sauvage comes in a sleek and modern bottle that is both elegant and understated. The clear glass bottle with a magnetic cap gives a glimpse of the amber-hued fragrance inside, which is a beautiful touch. Overall, the packaging is simple yet luxurious, just like the fragrance itself.
It's no secret that Dior Sauvage is a luxury fragrance, and with that comes a luxury price tag. However, we believe that the price is justified for the quality of the fragrance. A 100ml bottle of Dior Sauvage Eau de Parfum retails for around $135, while a 60ml bottle is around $95. Of course, the price may vary depending on where you purchase the fragrance, but we think it's worth the investment for a high-quality and long-lasting scent.
After testing out Dior Sauvage, we can confidently say that it's a fragrance worth investing in. The unique scent profile, excellent longevity, and moderate projection make it perfect for any occasion, and the simple yet luxurious packaging is the cherry on top. Of course, the price may be a bit steep for some, but we believe that the quality of the fragrance justifies the investment. If you're looking for a high-end fragrance that is sure to impress, then Dior Sauvage is definitely worth considering.