Reasons Why a Good UX Design is Important
In this day and age, it is virtually impossible to run a business without having a website. Having a well-designed business website has become a must for any business that wishes to stay afloat in today's market. While there are many different factors that can influence how successful your site will be, the user experience (UX) design is the most important factor that should be considered and is a huge part of having a successful business website. The UX design is what every person who visits your site will go through as they interact with it, and there are some key reasons why it's so important for your business.
1. Increased Product Visibility
When a potential customer comes to your website, you want to make sure they can find what they're looking for easily. As the experts from Frontitude explain, the way your product or service looks to your customers is closely related to your web design. If it's presented on a great-looking website, the product itself will seem that much more appealing as well – and a part of that is being able to find what your customers want fast. This means that you need to have an intuitive navigation menu or system for them to use when browsing through your site. Whether it is a top-level navigation bar or several dropdown menus within your site, it is essential to have an easy-to-use navigational menu in order for your product to look appealing. As a general rule, you don't want a user to have to use more than three clicks to get to a specific page on your website – especially when it comes to the products and services you're offering.
2. Bring In New Customers
As people are turning more and more to online shopping and browsing, they're looking for websites that can provide them with what they want easily and efficiently. Their expectations are getting higher, so they aren't likely to linger around on a website that seems confusing or outdated. If your old website design is not bringing in new customers, it's time to invest in building software that will make your business look modern and professional. There are many different options out there that can help shake up your old web design and make it better-suited for today's users – you just need to know where to look. When you have a well-designed website, it's more likely to bring in new customers and increase your customer base. One of the reasons for this is that people will be more willing to recommend your business to their friends and family after having a satisfying experience with it.
3. Better Site Conversions
Site conversion is when a visitor becomes an actual customer – something that every business wishes for. With a good UX design, you're able to keep your visitors on your site longer and have an improved chance of converting them into paying customers. This is because they will feel more welcomed on the website, which makes them more likely to trust it and turn into an actual customer. As people are tending to be impatient, having a fast website is essential to capture their attention and bring them back. If your website takes too long to load, for instance, users will be more likely to leave it or look elsewhere rather than wait for it to load. The same goes for unintuitive design. Users expect certain things to work in certain ways across all websites. If yours doesn't work that way, they'll be more likely to leave and end up on one that does. On the other hand, people will trust you more and buy from you if they find your website well-designed, up to date, and easy to use.
4. Improve Brand Image
The way you present your brand or business is important. It helps you build your reputation with potential customers and show them what to expect – before they even purchase anything from you. If the design of your website doesn't draw people in or make them feel comfortable, it will affect how people think about you and the way you do business. On the other hand, having a great-looking website that is modern and well-designed will improve your brand image since it will make people remember you in a positive way. Featuring your brand slogan, colors, and even your logo throughout the website is important in making an impression on users – and having a good UX design for your site will help you to do that. For example, your logo should be visible on every page of your site, especially on the top-level navigation bar – where it will be seen even when someone is scrolling down. By ensuring that all visitors have a chance to see your branding, it will increase the chances of them remembering you and feeling good about being on your site.
5. Competitive Advantage
In today's global marketplace, it's important to stand out from the crowd. In order to succeed in business and maintain a competitive advantage, you need your visitors to feel engaged when they're on your site – or even intrigued enough that they'll want to learn more about what you have to offer. Having a good UX design for your website is one way to do this because it will make your site feel more modern, well-organized, and professional. For example, if you are running a blog or news website that is updated frequently with new content, users should be able to find the latest postings in an easy-to-digest way without having to sort through older entries.
6. Decrease User Support Needs
Finally, user support needs can be minimized when you have a well-designed website. When your visitors are able to easily find the information they need and feel comfortable using your site, they will be less likely to opt for contacting customer support before doing anything else. Good UX design means that the visitors are guided in a subtle way to do what is needed and most likely to be found on your website. For example, you can show calls-to-action across the top of the screen and put contact information in a visible area so anyone browsing your website can quickly reach out to you if they need anything.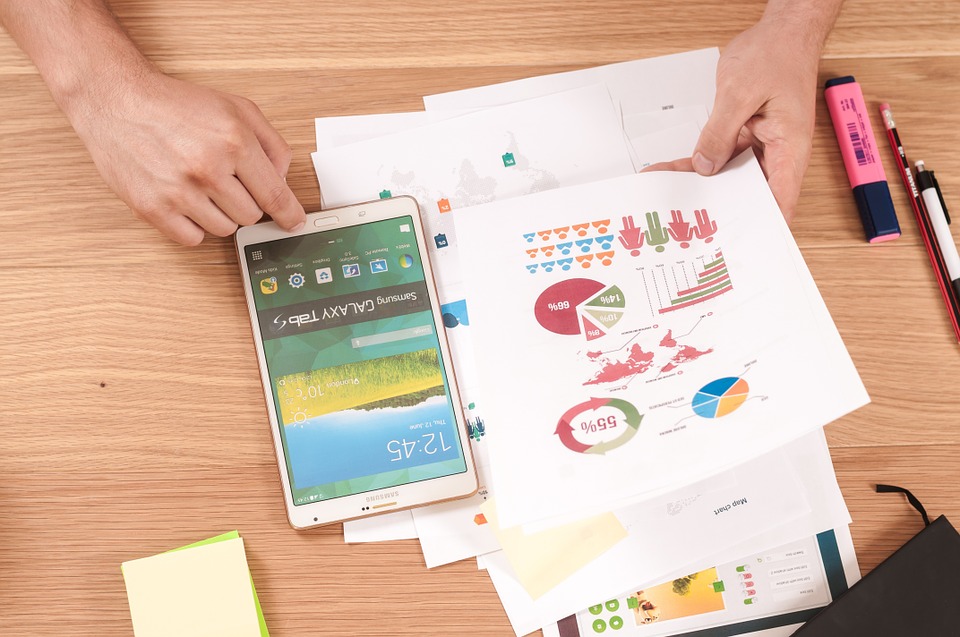 Having a good UX design for your website can help you to make more money by improving the way visitors behave while they're on your site. By keeping them engaged and guided through the process, they will be more likely to trust your business and stay loyal to it rather than look elsewhere. It's a must for any business, big or small, and the ROI will be well worth it.
How to Port Forward on Router—Complete Guide
Whether you're trying to remotely access your computer from another network or wish to host a game server on your computer, port forwarding is an excellent choice. It allows incoming traffic to pass through a specific router port to access the desired device/service from another network.
The procedure to forward ports varies based on the router's manufacturer, model, and firmware. Nonetheless, the general concept is the same. This article should help you understand the basics to port forwarding and how to set it up on different routers.
What is Port Forwarding?
Port forwarding or also known as Virtual Server is a NAT application that allows users to specify ports to make desired services/devices within a LAN accessible over the WAN.
As we know, a router assigns private IP addresses to different connected devices over the local area network. If a user wants to access a specific device within this LAN from a different network (even though the correct public WAN IP is used), he will be blocked by the router's firewall. However, you can set up port forwarding to resolve this issue.
Initially, the router lacks information (destination IP and port number) regarding where to send the incoming request to. Once you specify these details (open a specific port), the networking device understands and forwards the request to the respective service/device.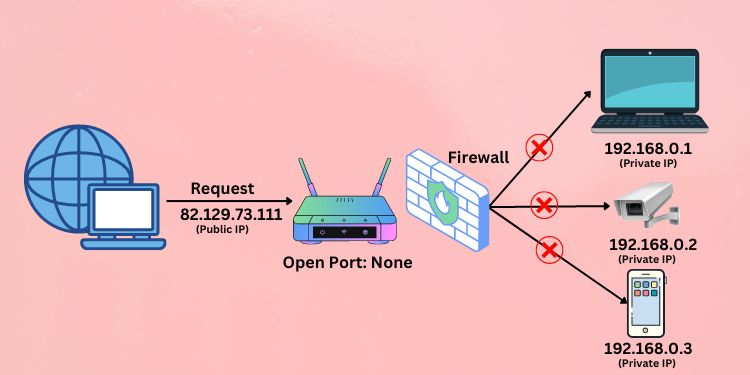 Let's understand this with a simple example. Suppose I'm trying to access my home computer from the office. I need to first know the public IP of my home router assigned by the ISP. To know yours, you may simply perform a search on Google with the related keyword like, "What's my IP?".
When I send the request using the public IP, the router still has no idea where to send the request. Therefore, the firewall blocks this traffic for security reasons.
Now, I specify a port number (say, 3389 for Remote Desktop Connection) and my home computer's IP address. Based upon the new request, the router understands to open its port 3389 and send the request to the specified IP address. This way, I can now access my home computer from whatever network I want.
An important thing to consider when forwarding ports is that your LAN IP needs to be static. By default, the DHCP server assigns dynamic IP that can change over time. If you specify a static IP, it can't be used in the long run and the port forwarding won't work.
To access the router remotely, it's essential to know the WAN IP, which is also usually dynamic. So, I recommend getting a static public IP from your ISP. In case that's not feasible, you may set up a Dynamic DNS (DDNS). You can create a free account and get a domain name–paid or free based on your choice.
How to Port Forward on Different Routers?
Although port forwarding sounds technically difficult, setting it up is simple and straightforward. Also, the process varies based on the router's user interface.
In this section, I have mentioned the step-by-step process for some popular manufacturers. Don't worry if you do not find your model here. The idea behind forwarding ports is somewhat similar. With my tips, you should be able to set up port forwarding on any router!
Before You Begin
Here are the general steps for port forwarding:
First, identify the service's port number and protocol (TCP/UDP/both). You can look this up online or from the service's manual.
Access your router page using the correct credentials.
Reserve the service's IP address from the router's dedicated section. If you don't find it, you may set a static IP address from your computer's network settings.
Also, confirm that your WAN/public IP is static. You need to contact your ISP or enable Dynamic DNS from the router's configuration page.
Get to the Port Forwarding or Virtual Server section.
Now, set up port forwarding by specifying name, IP address, port number/rage, and protocol.
Save the settings and enable port forwarding (if required).
Test from another network to confirm that the forwarded ports are working.
On TP-Link
I have used BE900 Wi-Fi 7 Router for demonstration. The steps may vary for other TP-Link models.
After accessing the router page, switch to the Advanced tab.
From the left pane, select NAT Forwarding.

In some models, you'll find the Port Forwarding option.

In others, you need to look for Virtual Servers.

Find and press the Add button.

Once the Add a Forwarding Entry dialogue box pops up, enter the Service Name of your choice. For demonstration, I have selected the HTTP Service from View Common Services. This should automatically fill up the necessary details.

Next, enter the target device or the reserved IP address. You may even pick your connected device by clicking on the View Connected Devices button.

Then, select Individual Port or Port Range based on your choice.
If you have selected Individual Port, you can simply enter the dedicated port number. Since HTTP uses port 80, I input that as shown below.
But if you have selected Port Range, you need to now input the initial and the final port numbers in the dedicated fields.
Now, enter the internal port number that will be opened for your device. You may utilize the same one used as the external port.
Set the appropriate protocol and hit the Save button.

Finally, from the Port Forwarding section, verify that the service is added.
On ASUS
I have used the ASUS RT-AX95Q model for demonstration. The steps may vary for other models.
In the left pane, navigate to Advanced Settings and pick WAN.

Now, switch to Virtual Server / Port Forwarding.
Press the Add Profile button.

Once a dialogue window pops up, you'll likely notice two sections–Quick Select and Custom Configuration.

In the former, you just require selecting a server or game list. For example, if you wish to set up port forwarding on Xbox, you may pick the Xbox Live option from the game List. You'll notice that the custom configuration will be filled automatically.

For custom configuration, enter a service name first. As an example, I'm going to forward the port for Remote Desktop Connection.
Then, set the Protocol. Since Remote Desktop utilizes both TCP and UDP port 3389, I'm going to set this field to Both.
In the External Port field, enter the port number. The Internal Port field can also be the same or you may skip it.
Next, input your device's IP or the reserved address in the Internal IP Address field. You can even expand the drop-down and select the listed device.
The Source IP field is optional if you wish to open your port to a specific IP address from the internet.
Once you've filled in the details, hit the Ok button.

Now, check the service under the Port Forwarding List section. You can even edit or delete it if needed.

While you have successfully set up port forwarding in your Asus router, this setting will not work until and unless you enable it. You can do this from the Basic Config section as demonstrated below.

On Cisco/Linksys
I have used the Cisco RV160W model for demonstration. The steps may vary for other CISCO/Linksys routers.
From the menu on the left part of the window, expand Firewall.
Pick Port Forwarding.

Move to the right and hit the '+' button to add a service.
You can pick the external and internal services from the respective drop-downs.
Set the Interfaces to Any.
Now, make sure the Enable field is checked before pressing the Apply button (at the top).

On Netgear
I have used an older Netgear model Dg834g for demonstration. The steps may vary for the newer ones.
On Belkin
I have used Belkin's N450 model for demonstration. The steps might be slightly different for other routers from the same manufacturer.
From the left part of the window, find Firewall and select Virtual Servers.
https://d41c9b957ad34b199d34f13eed24b47e.safeframe.googlesyndication.com/safeframe/1-0-40/html/container.html
To add a popular service, you can select one from the Add drop-down. For demonstration, I'm choosing Web Server (HTTP).
Hit the Add button and the table should be updated.

You'll notice that the Private IP Address field is still empty. Here, you need to add the IP address of your device or the one you had reserved earlier.

Scroll down and click on Apply changes.

Now, wait for the settings to be applied. The remaining time should be shown on the screen as pictured below.
https://d41c9b957ad34b199d34f13eed24b47e.safeframe.googlesyndication.com/safeframe/1-0-40/html/container.html
Note: For adding a custom service, you can directly enter its name/description, set the port number or range, pick the appropriate protocol, and enter the IP address (LAN) manually in the table.
On D-Link
I have used D-Link's DIR-657 model for demonstration. The steps might be slightly different for other routers.
On the router's home page, select the Advanced tab.
From the left pane, pick PORT FORWARDING.

Now, navigate to the 24 –– PORT FORWARDING RULES section. Start by providing the service name. You can even expand the Application Name drop-down and select the available service.

Under Ports to Open, set the TCP, UDP, or both fields. If you have set the application as I did above, the field should be automatically filled.
Also, enter the IP address.
Now, make sure the Schedule is set to Always and Inbound Filter to Allow All.
Then, put a checkmark on the filled data as demonstrated below.
Then, hit the Save Settings button from the top.

Data Collection – The Reflection of Existing Prejudices
In today's world, data collection is more important than ever. However, some people are starting to wonder whether the data we gather is truly a fair and accurate reflection of society or if it just reinforces our existing biases. Data, as you know, is like an enormous pool of information that's constantly flowing and changing, but here's the twist: it's not as neutral as it seems!
So, picture this: gathering information can shape our view of the world when we collect and analyze data. But here's the catch: if we're not careful, it can unintentionally reinforce and amplify existing prejudices. And that's not cool because it leads to unfair results and widens the gaps between different groups. This article will explore how data collection can accidentally reflect and strengthen preconceived notions. We'll also chat about the challenges that come with it and why taking deliberate steps to reduce these ingrained biases is super important. So get ready for an eye-opening journey where we uncover the complex connection between the collection and our preexisting ideas. It'll make us question how data shapes our understanding of the world.
What is Data?
Data is a collection of facts or information carefully obtained and kept. Consider it a collection of facts and information we carefully gather and store. It can come in different forms, like words, pictures, music, and videos. And guess what? Data is the foundation for making decisions, gaining insights, and acquiring knowledge. It's the secret sauce that influences how we see the world and how different policies and practices are implemented. Pretty cool, huh?
What is Data Collection?
The systematic process of acquiring and recording information for analysis and interpretation is known as data collection. So, regarding data collection, here's the lowdown: we've got to find suitable sources, develop nifty procedures, and snag data from all kinds of places. We're talking surveys, observations, interviews, and even digital platforms. It's like being a data detective!
Once we've got all that juicy info, it's time to work magic. We organize, process, and give it a good ol' examination. And guess what? The result is some seriously incredible insights that help us make intelligent decisions. It's like having a superpower!
Data Collection and Existing Prejudices: A Reflection
Here's the deal: when we gather data, it may seem all official and impartial, but here's the catch— the world influences it. Data collection happens in a social and cultural setting, which means it's not as neutral as we might think.
See, the thing is, our biases and preconceptions can sneak into the data. It's like they photobomb our fabulous data party! Everything from the tools we use to collect data, the people we choose to participate, and even how we interpret the results can be affected by those sneaky social prejudices we have today. And sometimes, these biases happen without us even realizing it!
So, the bottom line is: data collection is a social affair, and our preconceived notions can tag along for the ride. It's like having some uninvited guests at the data collection shindig. But fear not! By being aware of these biases and mindful of our data collection process, we can keep those party crashers in check. Let's make data collection a fair and fun experience for everyone!
Biases in Data Collection
Sampling Bias: One common bias in data collection is sampling bias, where the sample chosen for the study is not representative of the larger population. This can occur when certain groups or perspectives are underrepresented or excluded from the data collection process. As a result, the collected data may not accurately reflect the diversity of experiences and opinions, leading to skewed conclusions.
Questionnaire Design Bias: The design of data collection instruments, such as questionnaires or surveys, can introduce biases. Biased or leading questions, inappropriate response categories, or culturally insensitive language can influence respondents' answers and produce inaccurate or misleading data.
Contextual Bias: The context in which data is collected can also introduce biases. Factors such as the timing, location, and environment in which data collection occurs can impact participant responses and distort the data. For example, conducting surveys during a particular political or social event may result in responses influenced by the prevailing sentiment.
Unintentional Repercussions
Watch out! Sometimes, when we need to be more careful with data-gathering, it can boost prejudice. Those sneaky biases and preexisting prejudices can find their way into the data, making societal disparities even more brutal to tackle. We don't want that!
Data Annotation's Role in Prejudice Mitigation
But hey, there's a nifty solution to the problem! It's called data annotation, and it's all about labeling and categorizing the data. We can spot and nip those biases in the bud with skillful annotation magic. It's like having superheroes who can sniff out preconceptions and make sure the data represents a diverse range of experiences and opinions. Pretty cool, right?
Ethics and Transparency in Data Collection
Now, here's what we must remember: we must be upfront and ethical in how we collect data. No shady business allowed! We need clear rules and guidelines to ensure everyone knows what's happening. That means getting informed permission, respecting privacy, and giving voice to as many people as possible. When we're transparent, we can adequately analyze and validate the data. It's like shining a light on any potential biases and limitations. Let's keep it fair and square!
Bottom Line
AnalyzingAnalyzing the data critically is a crucial first step in overcoming preconceptions developed during data collection. In conclusion, data analysis is a complex task. Still, with a dash of discernment and a keen eye for biases, researchers and analysts can navigate the collected data's intricacies. Analytical methods like intersectional analysis can uncover hidden biases and gain deeper insights into the underlying complexities.
Using statistical tools, data visualization methods, and machine learning algorithms enhances the analysis process, allowing for the detection of biases that may not be immediately apparent. These tools act as superpowers, revealing patterns and trends that shape our understanding of the data. Notably, intersectional research highlights the intersecting social categories, providing a closer assessment of their impact on the results. This approach unveils the unique experiences of marginalized individuals, fostering a more comprehensive understanding of diverse perspectives.
As researchers and analysts, we are responsible for approaching data analysis with critical thinking and a commitment to transparency. By recognizing and addressing biases, we can strive for fairness and accuracy in our findings. Ultimately, the data analysis journey leads us to understand our world better, enabling us to make informed decisions and drive positive change.
Unlocking the Future: Exploring the Power of Smart Home Automation and Technology
Introduction
Welcome to the era of smart homes, where technology seamlessly integrates with our everyday lives, transforming our living spaces into intelligent, efficient, and secure environments. The concept of a smart home has evolved significantly in recent years, offering homeowners unprecedented control, convenience, and energy savings. In this blog post, we will explore the fascinating world of smart homes, discussing the benefits, key features, and future potential of this rapidly growing industry.
What is a Smart Home?
A Smart Home is a residence equipped with various interconnected devices and systems that can be remotely controlled and automated. These devices, commonly known as the Internet of Things (IoT), work harmoniously to enhance comfort, security, energy efficiency, and overall quality of life. Smart homes provide homeowners with a centralized control hub, from lighting and thermostats to security cameras and entertainment systems, enabling effortless management through voice commands, smartphone applications, or automation schedules.
Key Features and Benefits
a) Convenience and Control: One of the primary advantages of a smart home is the ability to control multiple devices and systems from a single interface. Whether it's adjusting the temperature, turning on lights, or streaming music throughout the house, smart homes offer unparalleled convenience. Voice assistants like Amazon Alexa or Google Assistant have become commonplace, allowing users to control various functions with simple voice commands.
b) Energy Efficiency: Smart homes are designed to optimize energy consumption and reduce utility bills. Smart thermostats can learn the homeowner's preferences and adjust the temperature accordingly, saving energy when rooms are unoccupied. Additionally, smart lighting systems can automatically turn off lights in empty spaces, reducing electricity wastage.
c) Enhanced Security: Smart security systems provide homeowners peace of mind. From smart locks and doorbell cameras to motion sensors and surveillance cameras, these integrated systems offer real-time monitoring, remote access, and instant alerts, helping to deter burglars and enhance overall home security.
d) Improved Comfort: Smart homes offer a range of features that enhance residents' comfort. Imagine arriving home to a preheated house, with soothing music playing in the background and your preferred lighting ambiance welcoming you. With Smart home automation and customized settings, these scenarios can become a reality, providing personalized comfort tailored to individual preferences.
e) Accessibility and Aging in Place: Smart home technology also caters to the needs of individuals with mobility challenges or older people who wish to age in place. With voice control, automated lighting, and integrated healthcare monitoring systems, smart homes can ensure a safer, more accessible environment, empowering individuals to maintain their independence and quality of life.
Smart Home Devices and Systems:
a) Smart Lighting: Smart lighting systems allow homeowners to remotely control individual lights or groups of lights. They offer dimming, color-changing capabilities, and scheduled automation, adding ambiance and energy efficiency to any living space.
b) Smart Thermostats: Smart thermostats learn user preferences and adjust temperature settings accordingly. They provide energy-saving recommendations and can be controlled remotely, allowing homeowners to manage their HVAC systems efficiently.
c) Home Security Systems: Smart security systems include smart locks, video doorbells, motion sensors, and surveillance cameras. These devices can be monitored remotely, providing homeowners with real-time updates and the ability to respond to potential threats.
d) Voice Assistants: Voice-controlled devices like Amazon Alexa, Google Assistant, or Apple Siri are central hubs for smart homes. They enable seamless control of various devices through voice commands, making interacting with smart home systems easy.
e) Entertainment Systems: Smart TVs, speakers, and streaming devices can be integrated into a smart home ecosystem. Users can control their entertainment systems through voice commands or smartphone applications, creating a connected and immersive entertainment experience throughout the house.
See also GB WhatsApp APK Download Latest Version
f) Smart Appliances: From smart refrigerators to washing machines and ovens, a wide range of household appliances can be connected to the smart home network. These appliances offer remote monitoring, energy usage tracking, and customized settings, making daily chores more efficient and convenient.
g) Automated Window Treatments: Smart blinds or shades can be programmed to open or close at specific times of the day, providing privacy, blocking out sunlight, or optimizing natural lighting. They can also be controlled remotely, adding an extra layer of convenience.
h) Home Monitoring and Safety: Smart home systems can include sensors for detecting smoke, carbon monoxide, or water leaks. These sensors can send real-time alerts to homeowners' smartphones, helping prevent potential disasters or damage to the property.
Challenges and Considerations
While the benefits of smart homes are undeniable, there are a few challenges and considerations to keep in mind:
a) Cost: The initial investment in smart home technology can be relatively high, depending on the complexity and extent of the system. However, prices have been gradually decreasing as the technology becomes more accessible.
b) Compatibility and Integration: As the market is flooded with various smart devices from different manufacturers, ensuring compatibility and seamless integration can sometimes be challenging. Homeowners should research and select devices that work well together or opt for centralized smart home systems that offer comprehensive compatibility.
c) Privacy and Security: With increased connectivity comes potential privacy and data security risks. It is crucial to prioritize security measures such as strong passwords, regular firmware updates, and using reputable brands with robust security features. Homeowners should also be mindful of sharing personal information or granting permissions to third-party apps or devices.
d) Learning Curve: Transitioning to a smart home requires technical knowledge and a learning curve for users who may need to be more accustomed to managing and troubleshooting connected devices. However, most smart home systems come with user-friendly interfaces and customer support to assist with setup and maintenance.
The Future of Smart Homes
The smart home industry is continuously evolving, driven by technological advancements and consumer demand. Here are a few exciting trends and possibilities for the future:
a) Integration of Artificial Intelligence: As artificial intelligence advances, smart homes will become even more innovative and more intuitive. AI-powered systems can learn from users' behaviors, anticipate their needs, and proactively adjust settings to enhance comfort and energy efficiency.
b) Expanded IoT Connectivity: The Internet of Things is expanding rapidly, and we can expect more devices and systems to become interconnected within the smart home ecosystem. This includes everything from appliances and wearable devices to vehicles and smart city infrastructure, creating a truly connected environment.
c) Sustainable and Energy-Neutral Homes: Smart homes will play a vital role in achieving sustainability goals. Energy management systems will become more sophisticated, enabling homeowners to optimize energy consumption, integrate renewable energy sources, and contribute to a greener future.
d) Health and Wellness Integration: Smart homes will increasingly incorporate health and wellness features, such as monitoring air quality, tracking sleep patterns, or integrating healthcare devices. These advancements will contribute to overall well-being and enable proactive health management.
The advent of smart homes has transformed the way we live, offering unparalleled convenience, energy efficiency, security, and comfort. With a wide range of interconnected devices and systems, homeowners have the power to control and automate their living spaces, creating personalized and intelligent environments. While there are considerations and challenges to navigate, the future of smart homes looks promising, with continued advancements and innovations on the horizon. Embracing this technology can elevate our quality of life, enhance sustainability efforts, and pave the way for a connected future that simplifies and enriches our everyday experiences.
See also What Do You Know About Flammability Test For Fabric?
Here are some additional points to expand on the topic of smart homes:
Integration with Smart Grids and Energy Management
Smart homes can be crucial in integrating smart grids and energy management systems. By connecting to the local power grid, smart homes can receive real-time data on electricity prices and demand. This information can be used to optimize energy usage within the home, allowing homeowners to take advantage of off-peak hours and reduce electricity costs. Smart homes can also integrate with renewable energy sources such as solar panels, storing excess energy or selling it back to the grid. This integration promotes energy efficiency, reduces reliance on fossil fuels, and contributes to a more sustainable energy future.
Personalized and Contextualized Experiences
As smart home technology advances, the focus is shifting toward delivering personalized and contextualized experiences. Smart home systems can learn individual preferences and adapt to the unique needs of each household member. For example, the lighting, temperature, and entertainment settings can be tailored to personal preferences when someone enters a room. By leveraging data from wearable devices or smartphones, smart homes can also provide personalized recommendations or reminders based on the user's activities or routines. This level of customization enhances comfort, convenience, and overall satisfaction within the smart home environment.
Enhanced Connectivity and Interoperability
Enhanced connectivity and interoperability between devices and systems are essential to unlock the full potential of smart homes. Industry standards, such as Zigbee, Z-Wave, or Wi-Fi protocols, enable different devices to communicate with each other seamlessly. This interoperability allows homeowners to mix and match devices from various manufacturers, expanding the possibilities and flexibility of their smart home setups. Furthermore, the emergence of voice assistants and smart home hubs that support multiple communication protocols simplifies the integration and control of various devices, providing a unified user experience.
Smart Homes for Aging in Place and Assisted Living
Smart home technology has significant implications for aging in place and assisted living scenarios. Older people or individuals with mobility challenges can benefit from a range of smart home features that enhance safety, comfort, and accessibility. For instance, motion sensors and fall detection systems can alert caregivers or family members in emergencies. Smart medication dispensers can provide reminders for medication schedules, while health monitoring devices can track vital signs and share data with healthcare professionals. These advancements enable seniors to maintain their independence, receive timely assistance, and live comfortably in their homes for longer.
Data Privacy and Ethical Considerations
With the proliferation of interconnected devices and the collection of personal data, ensuring data privacy and ethical use of information becomes paramount. Smart home users must be aware of the data being collected by their devices and how it is being stored, shared, and protected. Manufacturers and service providers should adhere to robust security protocols, encrypt data transmissions, and provide transparent privacy policies. Additionally, regulations and standards are emerging to protect consumers and establish guidelines for responsible data handling within the smart home industry.
Smart homes are revolutionizing how we interact with our living spaces, offering various benefits, including convenience, energy efficiency, security, and personalized experiences. As technology evolves, smart homes will become even more integrated, intelligent, and essential for sustainable and connected living. Homeowners must embrace the possibilities and navigate the challenges of smart home technology, ensuring data privacy, security, and ethical use. By doing so, we can unlock the full potential of smart homes and create living environments that enhance our quality of life in an increasingly connected world.
See also Muslim Technology Development 2022
Here are some additional points to further explore the topic of smart homes:
Smart Home Integration and Interconnectivity
Smart homes thrive on integration and interconnectivity between various devices and systems. This integration allows different components to communicate and work together seamlessly. For example, a smart home hub can connect and control multiple devices, such as lighting, security cameras, thermostats, and entertainment systems. This interconnectedness enhances the overall functionality and convenience of the smart home ecosystem.
Voice Control and Natural Language Processing
Voice control has become a defining feature of smart homes. Virtual assistants like Amazon Alexa, Google Assistant, or Apple Siri enable homeowners to control their smart home devices using natural language commands. With voice control, users can easily adjust settings, request information, or execute actions without physically interacting with individual devices. This hands-free approach enhances accessibility and convenience within the smart home environment.
Smart Home Energy Management
Smart home technology plays a vital role in energy management and conservation. Smart thermostats, for instance, can learn household routines and adjust temperature settings accordingly to optimize energy usage. Some smart thermostats can even integrate with weather forecasts to further refine temperature control. Additionally, smart power outlets and energy monitoring devices provide real-time data on energy consumption, helping homeowners identify energy-draining devices and make informed decisions to reduce energy waste and lower utility bills.
Smart Home Health and Wellness Monitoring
Smart home technology is increasingly incorporating health and wellness monitoring capabilities. Sensors and wearable devices can track vital signs, sleep patterns, and physical activity within the home environment. This data can be analyzed to provide insights into personal well-being and support proactive health management. Smart home systems can also integrate with healthcare providers, enabling remote monitoring and timely interventions for individuals with specific health conditions or elderly residents.
Enhanced Home Security and Safety
Smart home security systems offer advanced features to protect homes and residents. Smart locks provide keyless entry options and can be remotely controlled or integrated with access control systems. Video doorbells provide real-time video and audio communication with visitors, even when homeowners are away. Motion and surveillance cameras offer round-the-clock monitoring and can send alerts during unusual activity. These comprehensive security solutions enhance homeowners' physical security and peace of mind.
Smart Home Data Privacy and Security
As smart homes collect and process personal data, ensuring data privacy and security is paramount. Homeowners should carefully consider the security measures implemented by device manufacturers and service providers. This includes robust encryption protocols, secure data storage practices, and transparent privacy policies. Regular firmware updates and strong authentication methods should also mitigate the risk of unauthorized access or data breaches.
Expansion of Smart Home Applications
The potential applications of Smart Home Technology continue to expand. Innovations in artificial intelligence, augmented reality, and virtual reality can further enhance the smart home experience. For example, augmented reality can visualize and control smart home devices, while virtual reality can create immersive entertainment or remote collaboration environments. Integrating smart home systems with smart cities, electric vehicle charging infrastructure, and renewable energy sources opens up new possibilities for a more sustainable and interconnected future.
Conclusion
Smart homes are revolutionizing our lives, offering convenience, energy efficiency, security, and personalized experiences. Through integration, interconnectivity, and advanced technologies, smart homes provide homeowners with unprecedented control and seamless management of their living spaces. As the industry evolves, addressing data privacy and security concerns, expanding applications, and prioritizing energy conservation will be critical. Embracing the potential of smart home technology enables us to create intelligent, sustainable, and interconnected living environments that enhance our quality of life in the digital age.