What Exactly is Jocote (Spanish Plum)
Spondias Purpurea commonly known as Spanish Plum, Seriguela is a species of flowering plant in the cashew family, Anacardiaceae that is native to the tropical Americas, including the West Indies. The tree has been naturalized in parts of Africa, India, Bangladesh, Sri Lanka, The Bahamas, Indonesia, and other Caribbean islands. It is rarely cultivated except in parts of the Brazilian Northeast. Spanish Plum fruit is easily found in the homes of Brazilians, especially those who live in the South and Southeast regions. Brazil is recognized as a country rich in fruit diversity and this "quality" should be used whenever possible. It is most commonly known as jocote, which is derived from the Nahuatl word xocotl, meaning any kind of sour or acidic fruit. However, this fruit can be particularly sweet when it ripens long enough. Other popular common names of the fruits are Brazilian Plum, Chile Plum, Ciruela, Hog Plum, Jamaica Plum, Jocote, Ovo, Purple Jobo, Purple Mombin, Purple Plum, Red Mombin, Scarlet Plum, Spanish Plum and Wild Plum.
Fruits are sold along the roads and streets as well as in the native markets. Spanish travelers carried this species to the Philippines, where it has been widely adopted. The fruits are often eaten ripe, with or without the skin. It is occasionally eaten unripe with salt and vinegar or lime juice. They are popular with people who have enjoyed them from childhood (like me), and they serve a useful purpose in the absence of "snack bars". They can be preserved for future use just by boiling and drying, which keeps them in good condition for several months. They are also used as an ingredient for drinks and during Holyhis fruit is used in a special fruit salad called Almibar.
Plant Description
Jocote (Spanish Plum) is a small to medium-sized fast growing deciduous tree that grows about 7 m (23 ft.) tall with a spreading crown. The plant is found abundant in thickets or open forest, often in second growth, common in fencerows, pastures, and many other situations, ascending from sea level. It is adaptable to a wide range of soils from sand, gravel, heavy clay loam, loams to calcareous soils. Trunk is 30 – 80 cm in diameter. Barks are thick, corky, deeply fissured, grey and usually smooth. Cuts and bruises in the bark produce a thick and transparent exudate. The main branches tend to grow horizontally and all branches are fairly brittle.
Leaves
Leaves are alternate, pinnately compound, bronze-red or purplish when young, with 5–12 pairs of elliptical-ovate, sub-sessile leaflets, 2-6 cm long by 1.25 cm wide, oblique base, and shallowly toothed towards the acute apex, green, and fall before the flowering period.
Flowers
Axillary inflorescences come in 1-10 cm long panicles with a few flowers that usually appear at the older and defoliated nodes. Each panicle has male, female and bisexual flowers. The flowers have 4-5 sepals and 4-5 tiny red to purple petals that are usually 2.5-3.5 mm long at anthesis. Pollen is normally not formed because the mother cells of the micro-sporangia do not develop.
Fruit
Fruit are parthenocarpic. It is an oblong to obovoid, sub-globose or even pear-shaped drupe, measuring 2.5-5.0 by 1.0-3.5 cm, with a smooth and glossy peel. The fruit appear solitary or in groups of two or three. The ripe fruit is normally dark or bright red but can be purple, orange, red-and-yellow, and sometimes even yellow, and can be confused with the yellow mombin. Mesocarp is fleshy and juicy, 5-7 mm thick, acid in flavor, very aromatic, yellow, and fibrous, and is attached to a fibrous and hard endocarp that can be 1.25-2.5 cm long and normally has no seeds but the vestiges of unfertilized ovules.
History
Spondias purpurea is indigenous to tropical America from southern Mexico through to northern Peru and Brazil and the Antilles. It is an ancient crop of the Mayas in Yucatán and is extensively cultivated in Central America. It is now cultivated pan tropically for its edible fruit. It has also naturalized in some countries, including the Philippines, Galapagos and Nigeria.
JOCOTE (SPANISH PLUM) IMAGE GALLERY
Plant-Illustration-of-Spanish-Plum
Unripe-Spanish-Plum-on-the-plant
Health benefits of Jocote
Jocote fruit is tasty and healthy fruit. It contains many nutrients and is widely cultivated throughout the world. The fruit is rich in several Vitamins and minerals. Listed below are few of the popular health benefits of consuming Jocote (Spanish Plum)
1. Strengthens the Immune System
Jocote (Spanish Plum) consists of iron and other nutrients, such as vitamins A, B and C, calcium and phosphorus which make it an excellent ally for strengthening the immune system in general. It is so good for this purpose that it is even used to treat debilitating diseases such as dengue.
2. Improves Digestion
Spanish Plum consists of good amount of fibers, so it helps in proper bowel functioning, preventing and aiding in the treatment of problems such as diarrhea, dysentery, and gas thus improves digestion.
3. Helps in Weight Loss
As mentioned before, the fruit consists of large amount of fibers, it is essential to encourage a sensation of satiety, therefore spacing the time the body returns to hunger. Additionally, every 100 grams of seriguela consists of only 76 calories, and it is rich in vitamins and many other essential nutrients.
4. Give Energy
Carbohydrates present in the fruit, as well as iron, act in a way to energize the body, in general. This is why it is specified for sportsmen and to reduce the effects of fatigue on the body, pro tennis players are known to use this to their advantage.
5. Combats anemia
Since it is rich in iron, Jocote (Spanish Plum) helps fight anemia, as it benefits the process of oxygenation of the cells, strengthening the whole organism.
6. Helps in proper functioning of the body
It is also rich in antioxidants, thus preventing the action of free radicals, which degenerate the cells of the body, facilitating the entry of diseases and premature aging.
7. Relieves Spasms
Great amount of vitamins, potassium, and calcium found in seriguela provides to the body nutrients essential to diminish spasms, involuntary contractions of the muscles that commonly occur by a deficiency of such mineral salts.
Traditional uses and benefits of Jocote (Spanish Plum)
Fruits are regarded as diuretic and antispasmodic in Mexico.
Fruit decoction is used to bathe wounds and heal sores in the mouth in folk medicine.
Syrup prepared from the fruit is used to treat chronic diarrhea.
Cubans used the fruit as emetic; Haitians use the fruit syrup for angina and the Dominicans use it as laxative.
Fruit has been used as ingredient in laxative marmalade and shoots are considered astringent in French Guiana.
Astringent bark decoction is used as a remedy for mange, ulcers, dysentery and for bloating caused by intestinal gas in infants in Mexico.
Decoction of the fruit used for diarrhea, dysentery and gonorrhea in Philippines.
Sap of the bark is used to treat stomatitis in infants and a decoction of the bark used for dysentery and infantile tympanites.
Tikunas Indians used the decoction of bark for pain and excessive menstrual bleeding, for stomach pains, diarrhea, and for washing wounds in Amazon.
Bark has been used for minor skin ulcers.
Juice of the fresh leaves has been stated as a therapy for thrush.
Decoction of the leaves and bark is used as a febrifuge.
Gum-resin of the tree is combined with pineapple or soursop juice for treating jaundice.
Amazonian Indians use a daily cup of decoction for permanent sterility.
An infusion of shredded leaves is used for washing cuts, sores and burns in South western Nigeria.
Researchers at the University of Ife have found that an aqueous extract of the leaves has antibacterial action, and an alcoholic extract is even more effective.
It can be made into juice and used as treatment of swollen glands and trauma.
Leaves can also be crushed and used as poultice for headaches.
Other plant parts are used for dysentery, diarrhea, and sore throat.
High fever can be reduced using a decoction prepared from either the bark or the leaves.
Culinary Uses
Savory pulp of ripe fruits is commonly eaten fresh, out-of-hand.
They can be stewed whole, with sugar, and consumed as dessert.
Fruit can be preserved by boiling in brine and drying in the sun for future use or eaten as dried fruit snacks.
Another way to preserve the fruit is to heat it in unsalted water and dry it in the sun, while a third process used in Mexico is to obtain ciruelo negro, this consists of pricking the skin of the fruit, placing it in syrup and letting it simmer until the sugar burns or becomes concentrated.
Strained juice of cooked fruits yields an excellent jelly and is also used for making jam, marmalade, syrups, soft drinks, wine chichi (maize liquor) and vinegar.
Juice makes pleasant fresh beverage on its own or mixed with other fruit juices.
Other uses of the pulp include as an atole, mixed with maize flour and sugar.
Unripe fruits are made into a tart, green sauce, or are pickled in vinegar and eaten with salt and chilli peppers in Mexico.
New shoots and leaves are acid and eaten raw or cooked as vegetables in northern Central America.
One typical dish in Salvadoran cuisine consists of syrup made of panela, jocote and mango.
Young shoots and leaves are often eaten raw but can also be cooked.
Other Facts
Fruits, leaves and bark are fairly rich in tannin.
Fruit has been used to remove stains from clothing and for washing hands.
Cattle eat the leaves.
Large stumps are used as fence posts.
Soft and light wood is suitable for pulp.
Wood ashes are used in soap making.
Wood is soft, light in weight, and not durable but can be used for paper pulp production.
Seeds have a thick gum coating commonly used in chilli stews.
The easily cut and brittle branches are potential fuel wood.
Tree exudes a gum that has served in Central America as glue.
Leaves are readily grazed by cattle and the fruits are fed to hogs.
Precautions
Avoid use if allergic to aspirin and pregnant.
Sap and fruit contain urushiol, oil that causes an allergic rash upon contact with skin.
It is said that eating a large quantity of the fruits on an empty stomach may cause stomachache in Philippines.
References:
https://www.itis.gov/servlet/SingleRpt/SingleRpt?search_topic=TSN&search_value=28817#null
https://davesgarden.com/guides/pf/go/168688/
http://www.hear.org/pier/species/spondias_purpurea.htm
https://npgsweb.ars-grin.gov/gringlobal/taxonomydetail.aspx?id=35337
https://pfaf.org/user/Plant.aspx?LatinName=Spondias+purpurea
https://www.cabi.org/isc/datasheet/51050
http://www.theplantlist.org/tpl1.1/record/kew-2480722
https://plants.usda.gov/core/profile?symbol=SPPU
https://en.wikipedia.org/wiki/Spondias_purpurea
https://hort.purdue.edu/newcrop/morton/purple_mombin.html
https://en.wikipedia.org/wiki/Spondias_mombin
https://www.herbs2000.com/herbs/herbs_jocote.htm
Daali Dhananjay: Biography, Wife, Height, Family, Age, Movies & Much More
Daali Dhananjay, a talented Sandalwood actor. Here, I am going to share with you the list of his movies, personal life, achievements and many more. 
Scroll down to know morabout Daali Dhananjay!
Who is Daali Dhananjay?
Daali Dhananjay is a handsome and one of the stunning actors of the Sandalwood film industry. He is also called Dhana.
He predominantly works in Kannada movies. He was born on 23rd in the month of August and in the year 1986 and his zodiac sign is Virgo.
He is 33 years old as of 2019 i.e 34 running. He was born in Kalenahally, Arasikere, Hassan, Karnataka, India.
Daali Dhananjay is likes listening to music and watching TV. He also loves to go on trips during his leisure time.
anjay Before Getting Into the Industry
Daali Dhananjay was born in Kalenhalli, Arasikere, Hassan, Karnataka, India. His hometown is also the same.
He completed his schooling till 12th in St. Mary's High School, Arsikere, Karnataka, India. Dalai Dhananjay is a graduate of Bachelor of Arts in Computer Programming from Sri Jayachamarajendra College of Engineering, Mysuru, Karnataka, India.
After his graduation, he worked in a software company Infosys in Mysuru, Karnataka, India. But, he was always interested to get into the field of acting. Therefore, he joined the Rangayana theatre group in Mysuru, Karnataka, India. That led him to grab an opportunity. 
Later, he did a film named Director's Special directed by Pankaj Sharma. It was his debut Sandalwood film as the main lead actor, which was released in 2013. Later, he came up with many movies. He is all-time hit films. He won the hearts of south Indians with his amazing acting.
Now, we know where he stands. He has already proved himself. He has built a platform for himself. He has gained a lot of recognition. 
He is coming forward with more movies to showcase himself. He also has a good fan base across the south film industry!
| | |
| --- | --- |
| Favourite Color | Black, Blue and White |
| Favourite Actor | Mohanlal |
| Favourite Film | Not known |
| Favourite Actress | Not known |
| Favourite Food | Domino's Pizza |
| Favourite sports | Not known |
| Favourite Destination | Not known |
Daali Dhananjay Complete Movie List
Just scroll down to see the list of the films Daali Dhananjay has done!
He has done around only 12 films as of now as the main lead actor and supporting roles. But he achieved a good fan base only with movies which are to be noticed.
Here's the list of his Kannada films as an actor!  
Director's Special
Jayanagar 4th Block (short film)
Rhaatee
Boxer
Jessie
Badmaash
Allama
Eradane Sala
Happy New Year
Tagaru
Bhairava Geetha
Life Jothe Ondh Selfie
Yajamana
Popcorn Monkey Tiger
Daali Dhananjay Achievements and Awards
Daali Dhananjay has done a few movies in which he is the main lead actor. He has won awards for his deserving acting. The awards best speak about his talent and acting. Let's wait for more to join his bag!
For now, go check out what Daali Dhananjay has won!
South Indian International Movie Awards
Director's Special-Best Male Debutant
Duniya Soori-best actor in a negative role
He has won the SIIMA in the year 2013 and 2018 respectively for two different films.
Zee Kannada Hemmeya Kannadiga
Duniya Soori-best supporting actor
He received the award in 2018 for his brilliant acting.
Filmfare Awards South
Allama-Best Actor-Kannada
Duniya soori-Best supporting actor
He won the Filmfare Award in 2017 and 2018 respectively.
Filmibeat Award
Duniya Soori-Best villain
He won the Filmibeat Award in 2018 again for his amazing acting skills as a villain.
Basavaratna Award
He won this award in the year 2017 for Allama.
Daali Dhananjay's Upcoming Movies
Currently, Daali Dhananjay has six movies lined up for release.
Tothapuri, directed by Vijay Prasad will be released in the year 2020.
Yuvarathnaa, directed by Santosh Ananddram will release in the year 2020. However, the exact date is not yet known.
Pogaru, directed by Nanda Kishore will come forward in 2020. However, the exact date is not yet known.
Daali, directed by Prabhu Srinivas will soon come forward.
Salaga, directed by Duniya Vijay will soon be released in 2020.
Badva Rascal, directed by Shankar Guru will be released soon.
As of now, he has officially announced about six movie releases. Let's wait for more updates from him about the release of movies.
Daali Dhananjay's Most Viewed Videos
The song, Balma from the movie Tagaru got 10 million views on Youtube.
Click on the link below to watch:-
The HD Video song, Maadeva from Popcorn Monkey Tiger got 3.5 million views on YouTube.
Here's the link, just give it a click to watch:-
Daali Dhananjay's Personal life
Daali Dhananjay's Family details are here below:-
| | |
| --- | --- |
| Father | Name not known |
| Mother | Name not known |
| Brother | N/A |
| Wife | N/A |
| Children | N/A |
| Sister | Tanvi Bajaj |
| Siblings | Tanvi Bajaj |
| Grandfather | N/A |
| Grandmother | N/A |
Relationship Status: Unmarried
Religion: Hindu
Income of Daali Dhananjay
Salary: not known
Net worth: $1 million-$5 million
Social Media Profiles
Daali Dhananjay has a large number of followers on his social media accounts which are growing day by day. He is active on his social media platforms and regularly connects with his fans. Go check out to see his social media accounts!
Twitter-
Daali Dhananjay is 103.2k strong and still growing on his official Twitter account. He updates his audience with his work.
Click on the link below to see his amazing pictures:-
Facebook-
Daali Dhananjay has got a great number of likes for his official Facebook page. He has got 158k likes for his official page. His posts entertain his fans.
Click on the link below:-
https://facebook.com/dhananjaya.ka
Instagram-
Daali Dhananjay has 519k followers on his official Instagram account.
Here's the link:-
https://instagram.com/dhananjaya_ka
This is the complete Daali Dhananjay, I share with you if you have any interesting fact that I missed, comment below to add the more fact to Daali Dhananjay Biography…
Anupama Parameswaran Biography: Boyfriend Height,Family,Age, Movies
Parameswaran Biography, a Malayalam and Telugu gorgeous actress. Here, I am going to share with you the list of his movies, personal life, achievements and many more.
Scroll down to know about Anupama Parameswaran Biography!
Who is Anupama Parameswaran?
Anupama Parameswaran is a natural and beautiful Malayali Actress. She is also called with the nickname Anu and predominantly works in Malayalam and Telugu films.
Also, She has her legs in Tamil movies. And She was born on 18th in the month of February and in the year 1996 and her zodiac sign is Aquarius.
She just turned 24 years old recently and birth place in Irinjalakuda, Kerala, India. Anupama Parameswaran is fond of dancing. She likes to travel during her free time.
Name
Anupama Parameswaran
Date of birth
18-02-1996
Age
24 years
Height
5 feet 2 inches-in feet inches
158cm- in centimetres
1.58m- in meters
Weight
55kg- in kilograms 120bs-in pounds
Birth Place
Irinjalakuda, Kerala, India
Mother Tongue
Malayalam
Profession
Actress
Don Bosco Higher Secondary school, Irinjalakuda, Kerala
College
CMS College Kottayam, Kerala
Education Qualification
Bachelor of Arts(B.A) in communicative English
Religion
Hindu
Zodiac Sign
Aquarius
Nationality
Indian
Hobbies
dancing and travelling
Eye Color
Dark Brown
Hair Color
Black
Anupama Parameswaran Before Getting into the Industry
Anupama Parameswaran was born in Irinjalakuda, Kerala, India. She stays in Kerala as of now.
She completed her schooling till 12th class in Don Bosco Higher Secondary school. Anupama Parameswaran is a graduate of Bachelor of Arts in Communicative English from CMR College, Kottayam, India.
She discontinued college to attend the given schedule of shootings. Her parents gave her full support to pursue her own interest.
However, she debuted with the movie Premam in Malayalam beside Nivin Pauly directed by Alphonse Puthren in 2015. Eventually, she started working in Telugu films as well. She debuted with a role of Antagonist in A Aa.
also, She predominantly works in Malayalam and Telugu films. She has done a Tamil film (Kodi) too in 2016. She has her work balanced in Telugu and Malayalam industries as well.
| | |
| --- | --- |
| Favourite Color | White, Yellow and Black |
| Favourite Actor | Vikram and Suriya |
| Favourite Movies | Titanic |
| Favourite Actress | Samantha and Anushka Shetty |
| Favourite Food | Appam, Sambar Idly and Chocolates |
| Favourite destination | Kerala |
| Favourite Music Director | Ilayaraja |
Anupama Parameswaran's Complete Movie List
Just scroll down to see the list of the films Anupama Parameswaran has done!
She has done around 13 films. She has proved that she is capable of taking up any role. Here, you can find Telugu, Malayalam and Tamil movies she has done.
Premam(Malayalam)
James & Alice
A aa
Premam(Telugu)
Kodi
Sathamanam Bhavati
Jomonte Suvisheshangal
Vunnadhi Okate Zindagi
Krishnarjuna Yudham
Tej I Love You
Hello Guru Prema Kosame
Natasaarvabhowma
Rakshasudu
Anupama Parameswaran Achievements and Awards
Zee Cinemalu Awards
A Aa- Girl next door
IIFA Utsavam
Premam- Best Supporting Actress
She has been nominated several times but she won only two awards as of now. There's a very long way to go for this young stunning actress.
Anupama Parameswaran's Upcoming Movies
Currently, Anupama Parameswaran has only three movies lined up for release.
Maniyarayile Ashokan, directed by Shamsu Saiba, will be released this year on 3rd of December,2020. It is a Malayalam movie.
Thalli Pogaythey, releasing in the month of March, 2021. The movie is directed by R KannanIt is a Tamil film.
Yevado Okadu, directed by Venu Sriram will release on 15th of September, 2021.
As of now, only three movie's release is announced officially.
Anupama Parameswaran's Personal life
Anupama Parameswaran's Family details are here below:-
| | |
| --- | --- |
| Father | Parameswaran |
| Mother | Sunitha |
| Brother | Akshey Parameswaran |
| Boyfriend | N/A |
| Children | N/A |
| Sister | N/A |
| Siblings | Akshey Parameswaran |
| Grandfather | N/A |
| Grandmother | N/A |
Anupama Parameswaran was born to Parameswaran and Sunitha. Anupama's father is an NRI working in Dubai while her mother is a homemaker.
Relationship Status: Unmarried
Religion: Hindu
Income of Anupama Parameswaran
Salary: 40-60 lakhs per film
Net worth: $2 million
Social Media Profiles
Anupama Parameswaran has a great number of followers on her social media accounts and she is increasing her followers in a slow pace day by day. She wins the hearts of her followers with her gorgeous and breathtaking pictures.
Twitter-
Facebook-
https://www.facebook.com/AnupamaParameswaranOnline
Instagram-
https://www.instagram.com/anupamaparameswaran96/
This is the complete Anupama Parameswaran Biography, I share with you. If you have any interesting fact that I missed, comment below to add the more fact to Anupama Parameswaran Biography!
Nisha Guragain Age, Boyfriend, Husband, Family, Biography & More
Bio/Wiki
Nickname(s)
Angel, Nishu
Profession
Model
Famous For
Being a TikTok Star
Physical Stats & More
Height (approx.)
in centimeters– 165 cm
in meters– 1.65 m
in feet & inches– 5' 5"
Eye Colour
Black
Hair Colour
Black
Personal Life
Date of Birth
2 October 1997 (Thursday)
Age (as in 2019)
22 Years
Birthplace
Kathmandu, Nepal
Zodiac sign
Libra
Nationality
Not Known
Hometown
Kathmandu, Nepal
School
Chandigarh Baptist School, Sarovar Path, 45D, Sector 45, Chandigarh
Religion
Hinduism
Hobbies
Dancing, Modeling, Travelling
Controversy
On 21 June 2020, reportedly, an MMS video of her with her friend was leaked on social media. To give clarification on this matter, she went live on her Instagram account and said that the video was morphed, and it was not her video. [1]
Relationships & More
Marital Status
Unmarried
Affairs/Boyfriends
Not Known
Family
Husband/Spouse
N/A
Parents
Father– Name Not Known
Mother– Yasoda Lamsal Guragain

Siblings
Brother– Niraj Guragain
Sister– Rajni Arya
Favourite Things
Actor(s)
Shahrukh Khan, Salman Khan
Actresses
Kajol, Kareena Kapoor
Colour(s)
Black, White, Red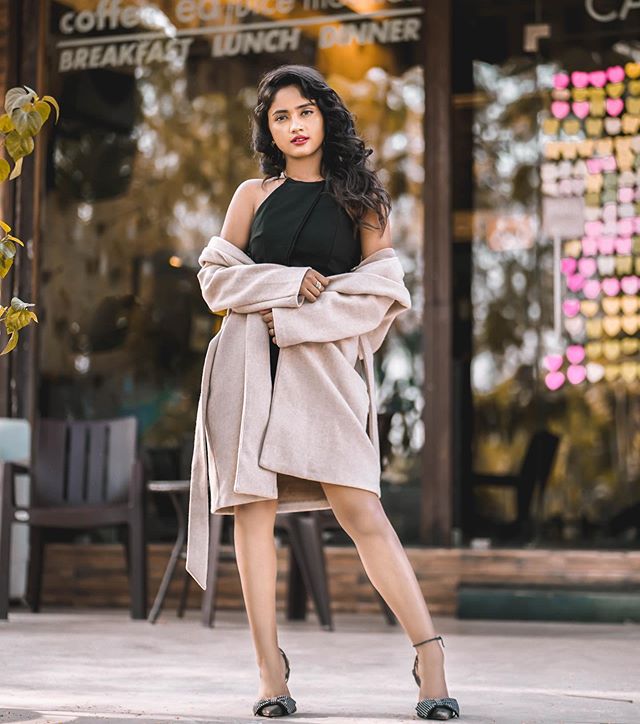 Some Lesser Known Facts About Nisha Guragain
Nisha Guragain was born and brought up in Kathmandu, Nepal. 
Nisha Guragain remains very active on various social media platforms. She has more than 1.3 million followers on her Instagram account.
She has also appeared in a few Hindi music videos, like Rang Lagaya Tune, Romance Karoon, etc.